Silver Fern happy to be back where she started after Mystics' centre experiment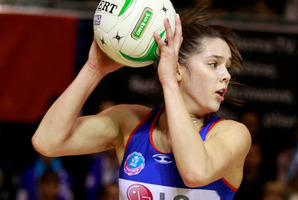 Kayla Cullen admits the experiment to play her at centre this year has "probably failed", though she isn't giving up hope of a midcourt role in the future.
Cullen has been part of the carnage of the Mystics' 2013 season, where the previously high-flying franchise has gone from hapless to horrible and back again. It started in the pre-season with a series of one-sided results and continued into the campaign proper. They have won just one match and have endured several hammerings, as well as losing twice to previous cellar-dwellers, the Tactix. They have conceded an average of more than 68 goals per match and the average losing margin over the last five games has been almost 14 goals.
There have been issues across the court but midcourt has been a glaring weakness. Despite knowing a year in advance of Temepara George's retirement, there was no discernible succession plan; instead Cullen, who had never played centre before, was thrown in, while Grace Rasmussen, who made her name as a wing attack, was seen as the other option.
"I probably failed as a centre, to be honest - they need to try someone else out," Cullen told the Herald on Sunday. "I think the umpires are running faster than me which is not always a good thing," she adds, half in jest. "I'm probably more beneficial to the team down at the defence end. I can focus on just getting the ball whereas at centre there is so much more to think about."
This season was meant to be a coming of age for the Silver Ferns prodigy. In her third full season in the ANZ Championship, this was the one to stamp her class. She talked about being more mature, ready to make an impact and achieve a new level of consistency.
Cullen made her league debut as an 18-year in 2010 and after that everything she touched turned to gold. She played every match of the next year as the Mystics went all the way to the grand final. She made the All-Star team and was honoured as the best young player in the league. Last year Cullen continued her rise. She was again nominated for the best young player award and cemented her place in the national side. But everything has unravelled in 2013.
"It was supposed to be our year," says Cullen. "We had very high expectations and definitely didn't think we would play this badly. It is very disappointing, especially with our calibre of players. To not be able to come out on court and play to our potential is very, very disheartening."
Partly due to lack of other options, and partly because she has been earmarked as a future centre by the Silver Ferns brains trust, who see the game evolving to contain taller midcourters, Cullen was given the Mystics' 'C' bib.
"I was very scared for my first game at centre," admits Cullen. "You are supposed to be the attacking leader and also the defensive leader so there is a lot of pressure ... I must have failed because I am back at the defensive end now."
"I think they are trying to breed a new kind of centre; bigger, taller, faster. I hope they haven't given up on me because I don't think I failed too badly; I just need a little bit more practice."
The efferverscent Cullen says she has retained her confidence, despite the annus horribillis.
"Personally, I guess my season has been okay," adds Cullen. "Not amazing, but not s**t. It's been okay. It has been hard adjusting to all the different combinations, it is a lot to handle mentally."
Apart from centre and wing defence, Cullen has also been used at goal keep and goal defence. She feels that wing defence is probably her best position - not the one she enjoys the most but where she is most effective. Her utility value and potential means her Silver Ferns position will probably be safe, though coach Wai Taumaunu has said everyone will have to perform in the pre-selection trials.
Away from the travails on the court, Cullen's life is blossoming. She has a job as a reporter on Maori Television's Head to Head, a quiz show with a sports bent. She is also an ambassador for this year's 40-hour famine, though netball duties preclude her from undertaking the challenge of almost two days with nothing but barley sugars.
For now, Cullen and the Mystics are determined to finish their season on a high. Today's game against the Magic should bring out the best in the Auckland-based side, as the two teams have had several epic clashes in recent years.
"Hopefully it is not a repeat of our pre-season game against them," says Cullen, referring to the clash over six periods in early March where the Mystics conceded more than 100 goals. "We are sick of losing and we want to finish on a high. But the Magic are like a family; they are such a tight unit and there are no cracks in them. It's hard to break up a family ..."