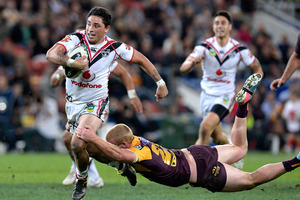 Consistency is not a commodity the Warriors can claim as an attribute. Too many failures preface a history of unfulfilled promise; frustration is a feeling many of us have when speaking about this club and its potential.
Despite last week's performance against a weakened Broncos, we wonder which team will run out today. Losing this tag will be a goal only achieved when firstly the ultimate prize, a premiership, is won and secondly when the high expectations of followers are met more often than not.
Let's admit it; it's hoped the Warriors win against the Sea Eagles this afternoon - but we don't expect them to win. Even the wholehearted fan hopes their team will "put in a good performance and hopefully win".
These thoughts are prevalent because today they are playing a Manly team who carry consistency, a fighting spirit epitomised by their coach and a quality other teams dream of.
I am certainly not saying that coach Matt Elliott needs to wear his heart on his sleeve like Geoff Toovey but the Sea Eagles team are a reflection of how 'Toovs' applied his craft as a player. With such attitude and application, Manly are expected to win. Such a statement cannot be said about the Warriors. The diehard fan will always believe their team will win but sometimes loyalty is blind.
We cannot express anything confidently about the Warriors because doubt frames their world. We do not doubt their ability as this has been displayed enough for us to know they can play this game; the doubt is whether it will appear today.
Last week was another sign that Kevin Locke is returning to the form that saw him a candidate for fullback of the year in 2011. His energy and willingness to appear on the shoulder of numerous ball carriers is a sign of confidence again. Feleti Mateo is living up to his own promise and taking a step up and becoming a leader of this team - not just in words but in actions. He has opened everyone's eyes to just how dangerous a player he is to any opposition.
Normally players lift their game when seeking a contract extension but Mateo is producing after signing such a deal - an intimidating and pleasing sign, especially when he promised to deliver such leadership.
Thomas Leuluai performed how it was hoped he would as a half when signed for the club. His direction, combined with support play, added spark which was much needed at this stage of the season.
Did Shaun Johnson give the finger to the coach with his performance claiming 'it was wrong of you to replace me a week earlier' or did the humiliating dragging off the field of the playmaker do what it may have been designed to achieve - making him 'pull finger' and do something.
Was the Panthers game an aberration or was the Broncos performance the anomaly? We all just want the Warriors to bring the latter performance consistently to the fore.