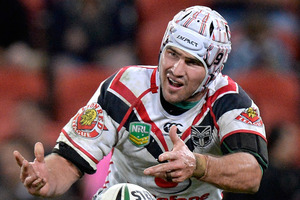 Nathan Friend admits he was "surprised and shocked" after being told he was unwanted at Mt Smart next year, though he is determined not to let it affect his game.
The Warriors hooker was informed last Thursday that the club would not be taking up its option of an additional year on his contract. It means that Friend is effectively a free agent and his representatives will begin negotiations with other clubs.
"We came over here with three years in mind and everything has been great, so I guess the expectation was we would have another year at least," Friend told the Herald on Sunday. "It wasn't something I was hoping for ... I was surprised and shocked. I probably didn't want to hear the words that came my way."
"I thought that everyone was against me on (Thursday)," adds Friend. "That is the way you feel when someone doesn't require your services anymore but my wife was pretty positive about things and I have realised that you have to ride the wave. I need to continue to play football and the future will take care of itself.
I've got to face up again (today against Manly) so there is no sense letting it get to you."
The first discussions around his future occurred after round four, when Friend returned to action after his shoulder injury. The club then asked for some time to see how Friend's body held up. Two months passed before last Thursday's news, though player and club emphasise that there is still a possibility - albeit small - that the tireless hooker could remain in Auckland.
"I don't think all is lost as yet," says Friend. "I spoke to the club again (last) Friday and they may come back with something and see if they can or not. If they can't then we have to look elsewhere - it is the nature of the beast I guess. It is a business and the club has decided they could do with with a fresh face in the nine and go in a different direction. There is nothing against anyone; it is just the way they want to head. I have to take it on the chin, do the best I can this year and hopefully seal a deal somewhere."
"The club has not taken up the option but that is just one step," says CEO Wayne Scurrah. "We are still resolving our roster for next year. Nathan is a free agent to look at any offers, including ours should we be able to come back to him. He's highly professional and a terrific character - it is the pressures of the overall roster that make it hard to make all of the decisions that you would like to.
Unlike some other Australian imports in the past, Friend has adjusted well to life in the Queen City and his young children (Axel 5, Oliver 4) are ensconced in school and kindergarten respectively. He has been a model of consistency on the field and on some levels it is a puzzling decision, especially as the 32-year-old was prepared to take a one-year deal.
Friend has brought a high level of professionalism and attitude, particularly on defence, not always present among some team-mates. During the horror run at the back end of last year, he seemed to be one of the few who didn't throw in the towel. One moment from the round 23 match against the Cowboys sticks in the mind; midway through the first half, with the Warriors already 18 points down, Friend sprinted 50 metres to chase his own kick from dummy half and trap his opponent in the in-goal, forcing a line drop-out.
It was a demonstration of desire - he was one of the few chasers - and ultimately futile (the Warriors lost 52-12) but illustrated plenty. There was also the Broncos match in 2012 where he played with a broken jaw and made 53 tackles.
However the likely arrival of Sam Tomkins, as well as other recruitment and retention decisions, has put pressure on the salary cap at Mt Smart. It appears the Warriors' brain trust are looking at a Thomas Leuluai/Pita Godinet combination at dummy half in 2014. Friend's lack of a kicking game and his speed out of dummy half has also been the subject of criticism this year, though there is little doubt that he provides a steadying influence. The Warriors have usually looked a better team with him on the park over the last 18 months.
He has averaged 43 tackles in his nine games this year. Last year he played 17 matches, averaging almost 42 tackles per game.