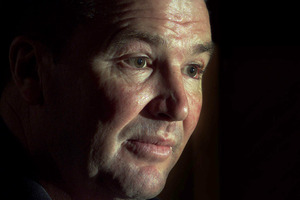 They were the team Kiwis used to love - now Manly are one of the teams we love to hate and just can't beat.
The Sea Eagles were one of the key reasons for New Zealand's love affair with the NRL in the early 1990s. The side was coached by Graham Lowe and contained several high-profile Kiwi players.
Manly had entered local consciousness in 1987, when Darrell Williams became the first New Zealander to win a grand final. Lowe arrived at Brookvale for the 1990 season and brought with him Kevin Iro (known as the original 'Beast', years before Manu Vatuvei had the nickname) from Wigan. He also signed Tony Iro, Adrian Shelford and, in a massive coup, All Black fullback Matthew Ridge.
For a time, the team was even labelled 'Maori Warringah'. Ridge was one of the highest profile league converts and proved an instant success, despite no background in league. Lowe had brazenly attended the All Black trials and also signed Zinzan Brooke (later allowed to walk away from his contract).
Ridge was among a number of rugby players to make the switch but one of the few to prosper. Along with Daryl Halligan, he brought a new standard of 'round the corner' goalkicking to the sport.
With talents such as Michael O'Connor, Cliff Lyons and Geoff Toovey, Manly employed a freewheeling style and were one of the most entertaining sides to watch in the competition. New Zealanders couldn't get enough.
"In some ways, Manly can take some of the credit for the Warriors coming into the competition," says Lowe. "They were on television a lot and were great to watch. Many Kiwis had preconceived ideas of league - a rough game played in knee-deep mud at Carlaw Park - and were not aware of how spectacular it could be. Suddenly this amazing action was on every week and local fans could relate to players like Cliff Lyons who played with carefree abandon. And Manly was where all the Kiwis were."
In 1992, Lowe also recruited 17-year-old Gene Ngamu and Manly gave up their rights to a home game to stage the first official Winfield Cup match in New Zealand (versus Newcastle at Carlaw Park). Another former All Black, Craig Innes, joined in 1996, while Awen Guttenbeil spent his formative years at Brookvale before returning to Auckland during the Super League war.
"It was an impressive culture," says Guttenbeil of Manly. "They had the Australian coach [Bob Fulton] and the Australian Rugby League CEO [Ken Arthurson] at the club. At the Warriors, you went out every week trying to prove yourself; at Manly, they expected to win every week because they had a tradition of success."
NRL interest in New Zealand hit a new high from 1995, with the introduction of the Warriors.
However, Manly remained popular and reached three consecutive grand finals (1995-97), with Ridge pivotal in their 1996 triumph.
Since those days, the love has faded. Manly has become a team easier to dislike, particularly when Des Hasler was coach. They were a physical, uncompromising bunch and men such as Anthony Watmough, Glenn Stewart and Brent Kite played the game to the edges of the law.
George Rose's cynical (and unpunished) hit on Aaron Heremaia in the 2011 grand final, which effectively took the hooker out of the game, also seemed unforgivable.
Manly have also become the team the Warriors just can't seem to beat. They have won just seven games of 23 (30.4 per cent) since 1995, with only the Dragons (21.1 per cent) a more formidable foe. The Warriors are also the Sea Eagles' favourite quarry; they have a better win percentage against the Auckland club than any other team.
Many of the current side have experienced only misery against Manly. The last win came in March 2009, during Stacey Jones' comeback match, while only Vatuvei, Simon Mannering, Sam Rapira and Jerome Ropati were present for the last victory at Mt Smart in August, 2007.
The Warriors have beaten Manly three times in 15 games since the start of the 2005 season. The Sea Eagles spoiled Brian McClennan's opening game at Eden Park last year, then precipitated his downfall with the heartbreaking 24-22 defeat in Perth, coming back from 18-0 down. There was also the loss in the grand final, a 32-8 thumping in the 2008 preliminary final for Ruben Wiki's last match and a 52-6 hiding at Brookvale the same year.
"They have always had a confrontational pack of forwards and very skilful halves," says Guttenbeil. "Against Manly, you can't afford to have more than one or two people off their game, otherwise you won't be in the contest."