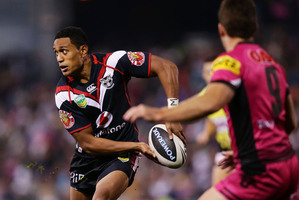 For someone who seemed to have unlimited potential, Glen Fisiiahi seems to be finally living up to the promise.
After two awkward years, where inconsistent form and injuries curtailed his NRL opportunities, the 22-year-old has begun to shine in 2013. He gave an accomplished display against Newcastle and was even better last Monday in Brisbane.
Today's match against one of the most unforgiving backlines in the competition will be a severe examination but at least Fisiiahi looks like a first grader now.
That wasn't always the case. He came on the scene in 2011 after scoring a truckload of tries for the Junior Warriors and at NSW Cup level. The Warriors liked what they saw, offering him an unprecedented five-year contract, and Ivan Cleary gave him the No1 jersey.
It was a difficult debut, placed at fullback against Parramatta for the much-hyped first Warriors game at Eden Park. He didn't really deliver, struggling to deal with a barrage of towering bombs from Jarryd Hayne and he played only three more NRL games in 2011.
Last year was a similar pattern, with injuries and form restricting him to just four matches as he toiled away in the Vulcans.
"I always knew I had a lot to offer but I wasn't showing it," Fisiiahi told the Herald on Sunday. "I was showing little glimpses. This year, I wanted to focus on turning in 80-minute performances. I feel like that's been coming."
After a tough pre-season, the 'Flying Fish' came into this season in rare form. He looked sharp and his effort to chase down a runaway Michael Jennings in the round two clash at Eden Park remains an enduring memory of that game. However, the tragic passing of his sister took him out of the next game and he didn't return for eight weeks.
"Before his family bereavement, I thought he was probably our best outside back," says Warriors coach Matt Elliott. "He had cemented himself a place in the first grade team and that period away was a tough time for him. It was tough on his physical condition - he lost a lot of weight - and his mental condition."
His comeback started against the Bulldogs in Wellington, where he was sensational in the first half before falling away (along with his team) in the second. The infamous defeat at Penrith came next before he switched back to the wing, with immediate dividends, for the games against the Knights and Broncos.
Fisiiahi brings frightening pace and he seems to glide across the ground. He is the fastest at the club over 40m and 100m, outstripping other speedsters such as Shaun Johnson and Kevin Locke. He adds another dimension to the Warriors, who haven't been blessed with backline speed in recent years, on attack and cover defence.
For the first time since he broke through, Fisiiahi finally seems settled. Instead of being a frustrated fullback stuck behind Locke (and maybe Sam Tomkins) he has accepted that his role is probably on the flank, admitting he feels a "lot more comfortable" on the wing now.
He offers a contrast to Manu Vatuvei and his speed gives him an edge over Bill Tupou and Ngani Laumape. It helps that he is a regular member of the NRL side, rather than shuttling between the Vulcans and first grade and feeling every performance is an audition.
"I'm around the boys a lot more now, whereas in the past I was up and down [between the grades]," says Fisiiahi. "I only had myself to blame for that with poor form and injuries ... now I need to keep performing. It's a big ask when you get called up and a lot of pressure that comes with it. The best place to prepare for first grade is in first grade and to do that, you need to perform week in and week out."
If there is a residual question mark over Fisiiahi, it is his ability to absorb the physical punishment that comes in the NRL. He hasn't always looked comfortable going into contact but has seemed to develop a harder edge this season. At 1.81m, he says his current 92kg is ideal; more, and he would lose sharpness, any less, he would "get ragdolled even more".
"The physicality still gets me every game but I am getting used to it," says Fisiiahi. "I'm getting used to being knocked around and the contact now."
"He played tough from the start of the season,"says Elliott. "He is understanding what his expectations are as a winger in terms of carries and positional play."
Despite making his debut almost two-and-a-half years ago, Fisiiahi will take the field for just his 15th NRL game today. He admits he has a lot to work on - especially defence - but doesn't want to say much more in case "other people [opponents] read these things".
Whether they pick up the papers or not, men such as Jamie Lyon, Steve Matai and David Williams will aim plenty of attack, both ground and aerial, his way today.
His defensive reads have improved, as has his confidence under the high ball, but the Sea Eagles will be the biggest test yet.