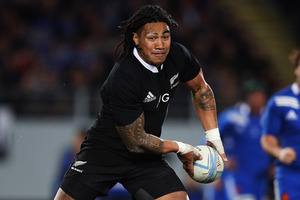 In what is shaping as a season of change - a year of new replacing old - the ageing Ma'a Nonu will be ensconced at the core of the team.
The veteran midfielder will be asked to take on a huge workload for the All Blacks - and his value to the national team is only likely to increase in 2013, as we saw last night.
Of all the young players called up by Steve Hansen since last year, Francis Saili is perhaps the biggest leap of faith. The Blues midfielder has all the component parts but he's a way off yet from being a moulded package. He's exciting but raw and his selection is partly about a lack of alternatives and partly driven by the selectors' conviction that, in time, they can shape and refine Saili into a quality test second five.
Saili is another who fits the description 'project', which means that for the June series and Rugby Championship at least, Nonu will be the only option. Given Nonu's patchy form with the Highlanders this season, that may seem just as big a leap of faith as the early promotion of Saili.
But All Black coach Steve Hansen has almost bottomless faith in Nonu. It's almost an accepted pattern now that he won't shine at Super Rugby, come into the All Blacks and deliver world-class performances. That transition frustrates the wider public but Hansen can understand its source.
Unlike Super Rugby sides who chop and change from week to week, the All Blacks have a non-negotiable vision of the type of player they want at second five. The All Blacks want a direct No 12 - a 100kg-plus, linebreaking, big tackling, physical player to carry the side over the gain line close to the ruck. It's not imaginative but it is vital - an area of the field the All Blacks feel they have to have physical dominance.
The creativity, distribution and kicking components can come from other positions - second five is there to bash it up and therein lies the reason why Nonu is such a critical part of the national side. That's why Nonu delivers his best performances for the All Blacks - they use him more effectively than his Super Rugby sides. The All Blacks remove the ambiguity, tighten the brief and play to Nonu's strengths.
Nonu is the best direct second five in world rugby. At 1.80m and 106kg, he is a logistical nightmare for defences. Where do you hit him? His power is phenomenal and the option for tacklers is the ankles - that's about the only place he can be successfully attacked and stopped short.
Whether it is Dan Carter or Aaron Cruden at first-five, they both know that the default option is to bring Nonu onto a short ball and let him crunch forward. It removes the stress from the playmaking role - they don't have to over-complicate matters or take undue risks. Nonu is the safety net; he can punch a hole and set up the next phase of attack.
Saili will be gently introduced this year - a run off the bench in the third test against France is his likely first appearance. After that ... so much depends on the fitness of Nonu.
He is a touch freakish in that he operates in a position of attrition, enduring an indecent number of high impact collisions, and yet he has proven almost indestructible. Injury has been a constant for nearly every other All Black - but not Nonu. His only injury-enforced omission from the test team in the last five years came in June 2010 when a damaged knee prevented him from playing against Wales and Ireland.
He missed the June tests last year not through injury but because the coaches wanted him to rest after playing almost two years of continuous rugby that included a sabbatical in Japan. He has played 58 tests since 2008 out of a possible 69 and that ability of his to absorb the collisions and avoid injury has never been so important.
The All Blacks simply can't afford for Nonu to suddenly fall victim to injury. He's been nigh on indestructible - through a combination of his size, shape, toughness and luck - and the All Blacks need that to continue.