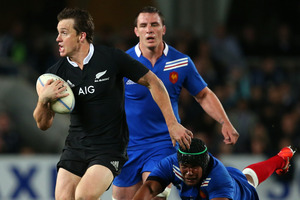 The word in the All Blacks camp is that Ben Smith doesn't know quite how good he is.
This is the guy who has been shining all season for a Highlanders team which couldn't buy a trick until last weekend when all of their frustrations came out against the Blues. Who was the fire-starter in that first half with a couple of tries? One Ben Smith.
Last night he was at it again.
The All Blacks might not have been worried at 7-0 down a quarter of the way through the match, but they certainly had plenty to think about.
But, after Aaron Cruden finally found the target after two misses, a moment of magic from Smith sparked his team into action.
Fullback Israel Dagg took a high kick on the halfway mark, the ball was quickly recycled and then Smith's speed of thought and feet did the rest. Spying two forwards in front of him, he stepped on the accelerator in that whippet-like way of his, drew the last defender, first-five Camille Lopez, and passed inside to his namesake Aaron Smith, a teammate at the Highlanders.
The little halfback sped towards the line for the All Blacks' opening try and was in the action moments later when following up a Ma'a Nonu break and putting Sam Cane under the posts.
Aaron Smith and Nonu, two Highlanders having memorable seasons for all the wrong reasons. That's the thing about Ben Smith. He doesn't do form slumps. He is the best of both worlds - X-factor with a healthy dose of common sense. He is a guy who can make something out of nothing but also do the right thing at the right time.
He's brilliant in broken play but goes looking for work too. Twice in the first half he was at captain Kieran Read's shoulder to make ground from quick free-kicks. In other words, he is a coach's dream.
Smith played on the right wing last night but can do equally well at fullback and he is likely to be the first guy Steve Hansen approaches for Conrad Smith's centre spot later this year. He could also be putting plenty of pressure on Dagg for his No15 jersey and moved there in the second half after Dagg was replaced by Rene Ranger.
There were question marks last year about whether Smith could make the step up to the top level despite being a consistently high achiever in Super Rugby.
His performance in the third test against Ireland should have answered that. It was one of his best performances in a black jersey after making his debut in 2009 against Italy in Milan.
The 25-year-old has come a long way since then.
He was the guy who sparked things last night, yet chased back to clean up the kick through under the posts with 12 minutes remaining as France threw everything at the All Blacks.
Imagine what he could do with a bit more self belief.