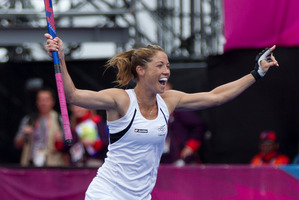 In certain sporting circles rotation is a dirty word. Not to Krystal Forgesson.
One of the senior players in New Zealand's squad for their World League 3 tournament starting in Rotterdam next Thursday, Forgesson has a dilemma.
At 30, and with 177 caps behind her, Forgesson would love to be around for a third Olympic tilt in Rio in 2016. However, she knows the clock is ticking. So ...
"I really like the idea of doing that," she said of players being rotated in and out of the less significant tournaments to help retain freshness.
"I've talked to Mark [coach Hager] a bit about doing that. Once you get a bit older injuries come and you're not recovering so quickly. It's about a policy of managing players."
However she's wary of taking a sabbatical from the game. The Auckland forward took five months off after the London Olympics last year.
"I found it quite hard to come back, training-wise, so I don't know if that's the best way to go."
Forgesson has talked to Hager about getting a heads up when he thinks time might be up for the hardworking attacker. Chances are it won't be coming any time soon.
She has a specific role in the front third of the field. Forgesson is the harasser of opposing defences, the player most adept at pressing opponents into mistakes.
"She brings a tenacity and hard-nosed attitude to the group," Hager said.
"The way she steals the ball off opponents is a real bonus, and when we don't play with her we lose our press because she really controls that."
Forgesson, who made her debut eight years ago, savours a role others might figure is just plain hard, unspectacular work.
"I tend to want to put them under pressure and force them to do something.
"Sometimes it's not been me winning the ball but the pressure I can put on that they turn the ball over further down the field. That is quite satisfying and I do like that part of the game."
Only the retired Suzie Muirhead (248 caps), teammate Emily Naylor (216), former defender Di Te Awa (183), and Naylor's co-captain Kayla Sharland (182) have played more times for New Zealand than Forgesson, who shares 177 with fellow attacker Charlotte Harrison.
"I don't think it matters too much," Forgesson said of numbers. "It's not what motivates me at the moment."
Goals? She's got 47, equal to retired Niniwa Roberts, one ahead of Harrison and trailing only Katie Glynn, with 64. Forgesson reckons her goalscoring has "plateaued" of late.
"I try and set them up these days. I was aware of Katie overtaking Niniwa and putting us to shame," she laughed.
"As you grow older you rely on your experience more. The girls are so quick you can't always compete in that regard.
"I think I do bring a lot to the team in terms of experience and reading the game."
Having Sharland, Naylor and Forgesson, the three senior figures, each operating in different lines on the field is an advantage. The Black Sticks, world No 3, should advance from the Rotterdam tournament to the finals in Argentina in December.
Forgesson likes the look of the squad and although there have been inconsistencies of late, reckons if they play up to their best they should progress.
The World Cup and Commonwealth Games next year are goals for her, which brings us back to Rio.
"At the moment I think no way, it's just too far away. I would really like to go there," Forgesson said of Rio. "But the game is becoming more and more professional in the time you have to put in and it is such a big commitment.
"But you don't want to regret anything," she added in a variation on the old line about sports people being a long time retired.
Provided her fitness stays strong, a tricky decision lies ahead for an integral member of the national team.