Father says the sight of his son's 'gushing' blood made him order the boy to hit another league player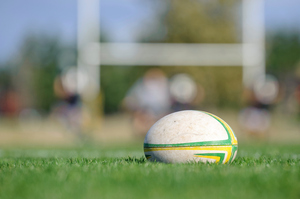 A father who ordered his son to punch another boy in the face during an under-9s rugby league game has admitted he lost his temper in a "stupid call" that he deeply regrets.
John, who did not want to give his surname, has apologised for the ugly incident at the Howick Blues versus Papakura Owls game in East Auckland last Saturday.
But the 29-year-old father of three said it was the sight of his son's "gushing" blood from a broken nose that now requires surgery which led to the moment of madness.
"I kinda lost the plot. I was calling out from the other side, 'Go back and punch him'."
John, who caught the initial incident on camera as he filmed his son's game, claims his boy was pushed and then punched in the face by the other player after a successful tackle.
"All I noticed was he pushed my son first. My son went to push him back and that's when the king-hit came. It was a big hook between the nose and eye. My son was rocked. He was just stunned."
John admitted he yelled to his son from the sideline to hit back.
"It was just stupid. At the time I was really, really angry."
Both boys left the game, which was still in play.
"So I crossed the field ... through the game. I asked my son if he was all right. I took him down to the other end and there was nothing wrong with the other kid."
John denies he held the opposing player but admits ordering the punch.
"I told my son, 'Are you ready?' I told him, 'Go for it.' It was stupid of me to do that. It was just I'd never seen my son's blood gushing like that before and I felt kind of weak, and helpless. I'm deeply sorry."
After five hours at the hospital John took his son aside and told him what happened was wrong.
"We had a father-son talk. I'm a Polynesian and I was brought up the hard way. Stupid calls like this can affect his career in the long run and I don't want him to lose his temper."
He agreed to attend two anti-violence workshops the Howick Hornets Rugby League Club asked him to go to.
John, who works graveyard shifts in a bakery six days a week, was also banned from further games until he had attended the It's Not OK education sessions, but said the injuries had ended his son's season.
"He can't breathe properly. He can't even do PE or anything."
John wants the other player punished.
However the boy's mother, who would only be named as Chantelle, said she believed John's son started it.
She admitted that her son, who broke a knuckle in the fight, often threw punches on the field but said he had learned a lesson.
"He said a couple of days after ... that he didn't mean to punch the boy so hard. He said he doesn't want kids to think they can bully him on the field. So if they hit him he's always going to hit back, no matter what I say."
Howick Hornets club chairman Bruce Campbell said he would meet John to discuss the incident. "We'll be talking about what he needs to do to get back on the sideline."