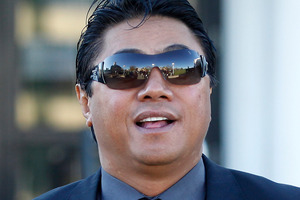 Kiwis legend Tawera Nikau has hit out at the lack of Maori representation on the NZ Rugby League board.
Nikau, who is Kiwis selector, was short-listed for the board's "league knowledgeable" position but missed out to incumbent vice-chairman Ray Haffenden.
Another director, Gary Fissenden, was also reappointed, and Nikau believes their retention is a case of an old boys' network looking after itself.
"I know Ray has done a lot in the game over the years but moving forward you've got to have some foresight," he said. "It seems like they reappointed the same old guys to do the same old thing."
Nikau was most perturbed at the continuing absence of Maori representation on the board of a sport with a significant Maori player base.
"One of the key things I have an issue with is that there are no Maori directors on the board - around 70 to 80 per cent of our players are Maori."
Pacific Islander Iva Ropati and Gisborne Mayor Meng Foon, who is Chinese but speaks te reo, are on the seven-member board.
Nikau, who said he was asked to withdraw after being unable to meet an interview date because he was overseas, described the appointment process as "bulls***".
But NZRL chairman Scott Carter rejected the accusation of cronyism as "nonsense". Every effort was made to ensure the board reflected the game's diversity, he said.
"The fact is we run a meritocracy, where first and foremost people have to be directors. They have to have the ability to sit around the table."
A recent Massey University survey of 87 national sporting bodies found Maori and Pacific people filled 6 per cent of governance roles while contributing up to 50 per cent of the player base in the likes of rugby and netball.
The study's author, Dr Ryan Hall, said Maori and Pacific people often found sports board roles too remote, and preferred working where they could see they made a difference.
Some Maori and Pacific candidates were not qualified to serve at board level, although that did not appear to be the case with Nikau, who has extensive business experience and strong iwi links to go alongside his stellar playing career.
"It does (seem) a little bit hard to fathom how he hasn't made it on to the board," Dr Hall said. "The position he was going for, he seems overqualified."
Dr Hall said many sports were taking steps to embrace diversity.
"But it does come down to Pacific and Maori putting their hands up to be available. In this case it appears that Tawera has done that and has met a bit of opposition. That is going to be disappointing for him, and people from outside might well look at it and ask why isn't he on the board?"
Carter said it was simply a case of Nikau not being the best candidate.
"What Tawera is not aware of is what the other candidates offered. He's a terrific bloke and he has some skills we are already making use of as a selector.
"The panel felt there were other candidates better suited to the board for this immediate period. That doesn't rule him out in the future or say that he is not worth anything."
Nikau plans to drum up support in the districts and challenge the decision at the annual meeting on June 30.