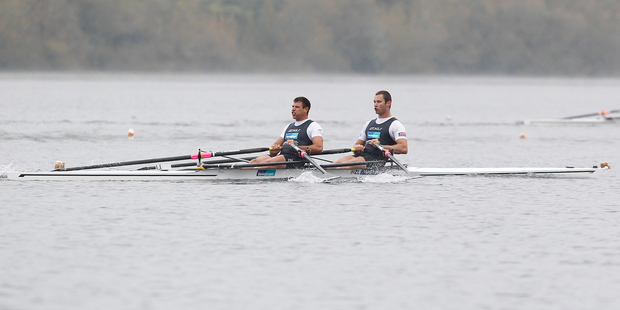 No one there will easily forget New Zealand scullers Nathan Cohen and Joseph Sullivan's sizzling sprint to gold at last year's London Olympics.
But things have changed in the past few months.
Cohen is in a quad preparing to head to Europe; Sullivan will take the single scull seat vacated temporarily by Olympic champion Mahe Drysdale, after controversially being left out for the opening World Cup regatta in Sydney in March on fitness grounds.
So Michael Arms and Robbie Manson have stepped in, with big shoes to fill, but they have started their campaign on the right note.
They won the A final of the Sydney regatta, although several leading countries didn't bother travelling Downunder.
Bigger challenges await, but the 23-year-olds are off in the right fashion.
"We thought that's a good starting point for us, a huge confidence boost," Arms said.
"It was great to be able to hop in the boat straight after the trials in February and have something that was pretty competitive worldwide.
"We're not letting it get to our heads. There's still plenty of work to do but we think we've got some fairly decent goals to achieve and are heading on the right track," he said.
Arms and Manson aren't newcomers to the New Zealand elite group.
Arms was in the eight which won gold at the junior world champs in Amsterdam in 2006, graduated to the senior eight for the worlds on Lake Karapiro three years ago before moving into the quad, which finished seventh in the B final at London last year.
Manson won the double crown with Sullivan at the under 23 worlds in the Czech Republic in 2009 and was in that London quad. Now they have been presented the chance to branch out.
The European championships were in Spain last weekend. They took note of the results.
Italy, second to Cohen and Sullivan at Eton, won the title, from Lithuanian, Norwegian and German combinations. The same Norwegian scullers, Nils Jakob Hoff and Keitil Borch, won the B final in London, 11 seconds faster than Cohen and Sullivan won the A final, showing how much bearing conditions can have on the pace of a race.
Arms said they're aware of the prestige attached to the double seater. Cohen and Sullivan had fashioned a formidable record in the years leading up to London and capped that off impeccably when it counted.
"You definitely get a sense of importance with every race, a sense of expectation being in an Olympic gold medal-winning boat.
"But if you think about that you won't get very far. We're both athletes who love to win no matter the cost. We complement each other quite well and both have different qualities we bring to the boat."
The world championships are in Chungju, South Korea in August. Crews face re-selection trials after they return from Europe in July.
"We've be pushing ourselves to the limit to stay in the boat," Arms said. "I think we've identified what we can improve on since Sydney. It's about steady goals taking us in the right direction."
The New Zealand men's crews head for London next weekend, with the women leaving a week later.
What's coming up
• The men's crews, plus single sculler Emma Twigg and pair combination Rebecca Scown and Kayla Pratt, leave for Europe next Friday. The other women's crews follow a week later.
• There are two World Cups, at Eton on June 21-23 and Lucerne on July 12-14.
• Some crews will contest the prestigious Henley Regatta starting on July 3 and others the Holland Beker regatta in Amsterdam starting on June 28.
• The world championships are in Chungju, South Korea, starting August 25.