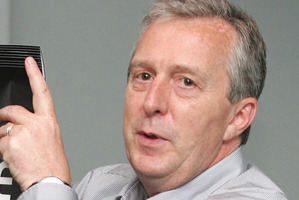 Staff turnover; the departure of a senior manager after an investigation into alleged sexual harassment; and now a Kiwis selector going public with his dissatisfaction at the game's administration - it hasn't been smooth sailing at the NZRL since former chief executive Jim Doyle's departure in December.
Kiwis legend Tawera Nikau is concerned enough at the direction of the game to go public with his grievances as rumblings of discontent from inside and outside the once tightly-knit NZRL have been steadily growing.
National development officer Andy Flint and long-serving accounts administrator Linley Hutchinson are leaving and several more staff are considering their positions.
The latest exits follow the messy, disputed and still mysterious departure of former high performance manager Tony Kemp.
Kemp and the NZRL are bound by confidentiality provisions in his exit agreement. However, the Weekend Herald understands the former Kiwis star received a significant payout.
With no victim coming forward, the details of the allegations against Kemp have not been made public. However, the Weekend Herald understands the complaints against him stemmed from his alleged behaviour towards young female employees, some of whom worked at the NZRL on a part-time, temporary basis. Many employees at the NZRL were shocked when Kemp failed to return to his post after being stood down during the investigation.
Although many who work at the NZRL remain close friends with Kemp, chairman Scott Carter denied there was a significant level of unhappiness among staff at the departure of someone who was a tireless campaigner for the Kiwis' cause and a key figure in reforms following the damning 2009 Sparc report into the sport's governance.
"Look, it is hard for us to see shadows where we don't believe there are any, put it that way," Carter said.
While not confirming the payout to Kemp - who has taken a new role as general manager of kit manufacturer BLK New Zealand - Carter described his exit as "mutually respectful".
"It is not unusual when there is an employment issue for both parties to agree on a way forward that is mutually respectful but actually deals with a situation, and that is precisely what happened. We are not at liberty to talk about the detail and neither is Tony. The fact is he is no longer employed by the New Zealand Rugby League and that is the end of it. We agreed that we would part company and there is nothing beyond that we are at liberty to talk about."
Chief executive Phil Holden insisted there had been "absolutely no fallout whatsoever" from Kemp's messy departure, and described talk of widespread discontent and lobby groups as "gossip of the worst kind".
"It's just absolute nonsense. I don't know where that is coming from. I'm not getting that from anybody."
However Nikau's agitation at missing out on selection to the NZRL board and his willingness to go public despite serving as a selector seems a fair indicator all is not sweetness and light within the organisation. Nikau intends to lobby for support in the game's districts and challenge his non-selection at the AGM on June 30.
"I'm really genuinely concerned for the game," he said.
Filling Doyle's shoes was never going to be easy, but in contrast with the inclusive and highly energetic Scotsman, Holden's more autocratic management style has not sat well with some employees.
"The new chief executive coming in is always going to take time to find their feet, but Phil is a very capable leader," Carter said. "The board has got every confidence in him.
"I can't comment if someone is particularly upset because [Tony] left or Jim left, the reality is that a CEO change every three to four years is not unusual. And it is not unusual for a CEO to reshape their senior team according to what they see are the strengths and weaknesses.
"I don't think there is anything unusual going on and for people to suggest otherwise is probably a little mischievous."
There was no basis for fearing the game might slip back to pre-reform days, he said, when a dysfunctional organisation was riven with political infighting and financial difficulties.
"Why should we have any fear like that?
"If you look at what caused the old days it was people who were struggling with governance, they spent money they didn't have. The old governance structures were politically-based, not merit-based. We are not returning to those [days].
"Let's put to bed a myth that the reforms are about one person. Jim was a very good chief executive. He did some great work. But he was one person.
"Phil is not a stranger. If there is anybody trying to make an issue of [his work] I'd be looking at their motive. It's just nonsense."