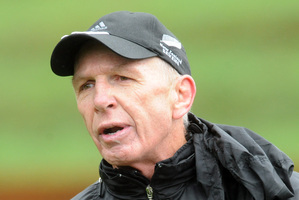 New Zealand sevens coach Sir Gordon Tietjens has named three players in his 12-strong World Cup squad that took part in the last global tournament in Dubai in 2009.
This year's edition takes place in Russia later this month and veterans DJ Forbes, Tomasi Cama and Lote Raikabula are all included.
Tietjens said he was pleased with the mix of experience and young blood in the team selected after a trial camp in Mt Maunganui this week.
"It's been an intense few days and competition for places has been strong as I know all players are really keen on taking part in a World Cup," he said.
"There is something very special about the Cup which only comes around once every four years and playing in a country we have yet to visit as a team is also pretty exciting."
New Zealand are in Pool D alongside Canada, Georgia and USA and open their campaign against Canada on June 28.
"On the sevens world series circuit this year we have tested a group of young, exciting players so it's really pleasing to include a number of them in the team. A World Cup is something completely different so they know they are in for a real test," he said.
"The good thing is we have a core of players in DJ, Junior and Lote who know well the pressure cooker environment of a World Cup so that will certainly help the younger players cope with the challenges in Moscow.
"We really want to do well over there as we haven't won the Cup since 2001. This is also the last World Cup before the Olympics so Moscow is also going to be very valuable in terms of our planning to ensure we are in the best possible shape for Rio in 2016."
New Zealand women's head coach Sean Horan has selected a largely experienced team for their World Cup, which runs concurrently, making one change from the squad he took to Amsterdam for a world series tournament last month.
Manawatu police officer Selica Winiata comes back from injury in time to earn a spot in the squad, while Ruby Tui (Canterbury), Shakira Baker (Wellington) and Carla Hohepa (Waikato) were unavailable due to injury.
Canterbury's Alexis Tapsell and Manawatu's Vaine Greig swung the selection door wide open after their first IRB women's world series tournament last month.
"We have chosen our form players, and included some young talent that we need to develop at this level to ensure we have continued growth and strength in our team."
The New Zealand women's side play Tunisia on June 29 and are joined in Pool A by Canada and the Netherlands.
World Cup squads
Men: Kurt Baker, Tomasi Cama, Scott Curry, Sam Dickson, DJ Forbes, Bryce Heem, Gillies Kaka, Tim Mikkelson, Waisake Naholo, Lote Raikabula, David Raikuna, Sherwin Stowers.
Women: Kelly Brazier, Sarah Goss, Vaine Greig, Honey Hireme, Linda Itunu, Huriana Manuel, Kayla McAlister, Tyla Nathan-Wong, Alexis Tapsell, Selica Winiata, Renee Wickliffe, Portia Woodman.
- APNZ