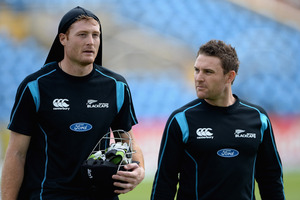 Fitness and fielding have emerged as two important areas giving New Zealand a point of difference at cricket's Champions Trophy.
New Zealand produced a series of solid performances running, trapping, throwing and catching against England in the one facet of the game where they are in complete control.
No giant bat or swinging, seaming or spinning delivery can deter them from success. It's purely man versus ball. A few misfields and dropped catches have blemished their efforts, but generally it's been a slick operation.
The fielding drills have not reached the circus-quality heights achieved under previous fielding marshal Trent Woodhill at the 2011 World Cup, but they are impressive.
There is a wealth of talent led by Martin Guptill, Brendon and Nathan McCullum and Kane Williamson. Ross Taylor's slip catching is among the best in the world.
In a pre-Champions Trophy assessment of his side's prospects, coach Mike Hesson says fielding is a priority which works in tandem with fitness levels.
"We don't nail it every day but we are clear how we want to play the game. The one thing I'm really pleased with is how aggressive we are in the field. We are saving a heck of a lot of runs."
Hesson has placed himself in charge of recording saved runs.
"We were plus-12 [runs saved] in the field at Nottingham, which was probably as good as we've been for four years. Over the series we were plus-30.
"The number of opportunities we create putting pressure on the opposition when they're manoeuvring the ball for singles assists our bowlers and occasionally we do spectacular things."
Hesson says former Olympic sprinter and now strength and conditioning trainer Chris Donaldson deserves kudos for the fielding effort and for maintaining players' stamina and alertness running between the wickets.
"I think we had 43 personal bests in our last fitness training in various tests of around 20 players," Hesson said. "You might also start to notice a change in body shapes and the speed they've gained has certainly helped."
Before the test series, Donaldson said his first priority was adapting players to the rigours of force on their bodies, such as bowlers' impact at the point of delivery or batsmen stretching to play shots.
"That's the biggest breaking point. I try to put significant loads on them so they become faster and stronger.
"I've taken a lot out of my sprint training."
Donaldson said he was determined to change a common perception cricketers are poor excuses for elite athletes.
His contract runs until the end of the 2015 World Cup.