Hesson defends spin options and admits Vettori could be calculated risk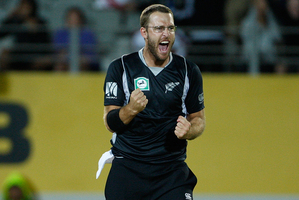 Browse through the teams at the Champions Trophy and it's understandable why New Zealand want to give Daniel Vettori the maximum available time to prove his fitness.
Sunil Narine (West Indies), Saeed Ajmal (Pakistan), Graeme Swann (England), Ravi Ashwin and Ravindra Jadeja (India) are spin bowlers who feature in the top 20 of the one-day international rankings.
Add the Sri Lankan threat of Rangana Herath, Jeevan Mendis and the developing Sachithra Senanayake and those teams have recognised spin threats.
Australia's Xavier Doherty has shown promise and South Africa have Robin Peterson to back up their pace barrage. That leaves New Zealand looking light. Nathan McCullum toils, but with 33 wickets in 49 matches at 49.27, he is there to throw a bat and save runs in the field as much as bowl.
Kane Williamson is a gap filler; he must be considered "batsman first" at the expense of all else.
If the wickets turn in the next fortnight, New Zealand will struggle to capitalise.
Evidence from this season's tests and ODIs suggest they might turn and the county 40-over matches at the Champions Trophy venues of The Oval, Edgbaston and Sophia Gardens hint likewise.
Presumably off-spinner Jeetan Patel or left-arm orthodox bowlers Roneel Hira and Nick Beard are on standby.
Coach Mike Hesson said Vettori would not be withdrawing just yet.
"He's looking promising but I don't want to get too excited. It would be nice to say he's fully fit but it's a bit early. We've given him a few days for things to settle down.
"We will see how he trains on Friday, with a view to playing him against Sri Lanka.
"We are taking a risk in terms of the lack of match play. He's only really played a club game [in England] but obviously he's got loads of experience and is in decent nick. If we do play him, it would be a calculated risk."
Hesson gave his back-up spin options a devout defence.
"Dan's not vital. We've won two away ODI series without him but we are certainly a better side when he's there. I think the way Nathan [McCullum] has performed in those two series is a testament to him. However, the experience of Dan in key games would be welcome."
Hesson believed Vettori could be replaced, despite aggravating an Achilles tendon injury which he'd had treated several months back.
"It was a new injury he suffered at Northampton in the practice one-dayer. We'd only replace him if we felt he was unable to take any part in the tournament ..."