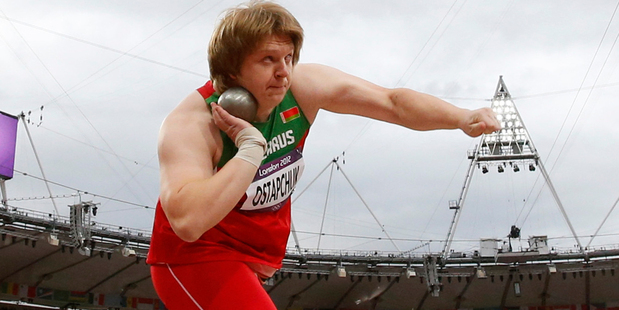 Nadzeya Ostapchuk, Valerie Adams' great shot put rival, is expected to be slapped with a life ban by the International Association of Athletics Federations for failing two drugs tests.
The Belarusian shot putter was stripped of the gold medal she won at last year's London Olympics after tests revealed metenolone in her system and she also failed a second retrospective test done recently on a sample taken after her gold medal-winning performance at the 2005 world championships in Helsinki, Finland.
There will be pressure on the Belarus Athletics Federation to ban Ostapchuk for life. They initially proposed a one-year suspension, which caused concerns she might be free to compete at August's world championships in Moscow, but this was never ratified and the IAAF have confirmed Ostapchuk will not be competing this year and can expect a heavy sanction.
"The reason for the lengthy delays is because two different doping charges need to be considered and it is extremely likely that the final sanction will be for life,'' IAAF communications director Nick Davies said in a statement.
"As per our rules, the IAAF is waiting for the decision of the Belarus Athletics Federation regarding Nadzeya Ostapchuk but, until that decision is taken, Ostapchuk is provisionally suspended and will not be competing either in Moscow or at any other athletics competition.
"The fact that it is the Belarus Athletics Federation that issues the sanction, not the IAAF, is completely normal and enshrined in our rules.
"Were the Belarus Athletics federation to take a decision that the IAAF is unhappy with, we are entitled to maintain the provisional suspension and take the Belarus Athletics Federation to the Court of Arbitration in sport.''
The news will be welcomed by Adams, who has steadfastly maintained Ostapchuk should be banned for life, and it has also been greeted by approval from the New Zealand sporting community.
"It is very encouraging to know that the strongest sanctions are likely to be handed down,'' New Zealand Olympic Committee secretary general Kereyn Smith said. "While it has been a lengthy process, it is important that it is done correctly, and especially important for our athletes to have confidence in the anti-doping system. We are looking forward to the final decision.''
Those comments were echoed by Athletics New Zealand chief executive Scott Newman.
"As soon as her second positive was confirmed, it was our understanding there was little option but a life ban and just awaiting the Belarusian federation to confirm the sanction,'' he said. "It's exactly as it should be and obviously good news to think one more drugs cheat is out of the system.''
Ostapchuk is the only person to beat Adams in competition since 2006, although her win at the 2010 world indoor championships in Doha must now be called into question.
Ostapchuk's coach Alexander Efimov took the blame for her failed test from London, with the Belraus Athletics Federations claiming Efimov admitted he spiked her food with steroids in the run-up to the London Olympics because of concerns about her form.
She has said she was "framed'' after testing positive, and a ban can be dropped by up to 50 per cent if an athlete can prove they had no knowledge they were taking anabolic steroids. But the second positive test has strengthened the case against Ostapchuk.
Last weekend Adams won a Diamond League meeting in Eugene, Oregon, with a throw of 20.15m, only 3cm further than China's Lijiao Gong.
Adams is gearing up for a tilt at a fourth world title in Moscow - hoping to become the first female thrower to win four world titles - and will also compete at Diamond League meetings in Lucerne, Paris, London, Stockholm and Zurich. Her next competition is in the Czech Republic in three weeks.
- APNZ