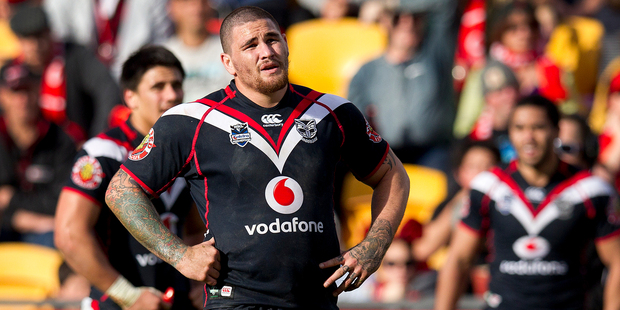 1. Game of the week
Not long ago Manly and the Warriors were meeting in the grand final but one club has gone south since then. Even though the Warriors captured the attention of audiences on the other side of the Tasman on Monday night with their shellacking of Brisbane - as well as Russell Packer's pre-game antics - Manly will still start as favourites and history suggests they will win. They haven't lost to the Warriors since Stacey Jones made his comeback appearance at Brookvale Oval in 2009 and won 11 of the last 13 meetings between the two clubs.
2. Nappy brain
Surely some advertising guru has thought of the idea of using Russell Packer to advertise nappies and incontinence pads with his slogan, "when u gotta go u gotta go". There has to be some commercial value in Packer's little tinkle on Monday night. He's got this image of being a Warriors hard man but maybe he really has a softer (and absorbent) side.
3. Packed in
Packer was at the centre of a joke shared with the 80,000-strong crowd at ANZ Stadium on Wednesday night for the first State of Origin match when Australian comedian Vince Sorrenti told the crowd NSW were going to do to Queensland what Packer did to Suncorp Stadium on Monday night. The Blues didn't exactly do that, in a metaphorical sense, in a tight eight-point win but they hold a wee advantage.
4. Lets Gone Warriors
The bearded Warriors prop has dominated discussion around the Brisbane game but there's also been a fair bit of chatter about the nonsensical sign held by a fan in the crowd at Suncorp Stadium, "lets gone Warriors". Forums have been debating whether there was some hidden meaning or the joke worked on a different level. Sadly, it would seem, it doesn't but it prompted the classic jibe about raising the IQ of both countries when Kiwis cross the Tasman.
5. Set of six
The top six teams have been found for the Warriors Cup (Auckland high school competition) with Steve Price's Mt Albert Grammar sneaking in by virtue of a better points differential over Tangaroa College, whom they beat 22-10 in their final round robin game. Kelston and St Paul's went through unbeaten and are joined by Westlake, MAGs, Sir Edmund Hillary College and Otahuhu College.
6. Myles of uses
Paul Gallen's cheap shot on Nate Myles in Wednesday night's Origin match again highlighted why league should bring back sin-binning. Gallen, who was put on report and is set to miss a match, unleashed a couple of jabs on Myles after also whacking him in the chops during a tackle. It was, in Gallen's eyes, retribution for Myles' dodgy tackling style and labelled by NSW coach Laurie Daley as "a great Origin moment". It might not have been so great if he had been sent to the bin and opened the way for Queensland to launch a comeback.