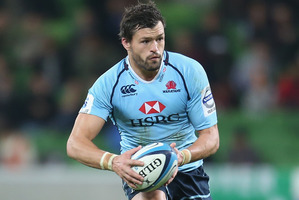 Wallabies backline stalwart Adam Ashley-Cooper attributes banishing fear and conservatism and playing regularly in one position as the factors behind his red-hot form.
Australian rugby's longest-standing backline utility, 29-year-old Ashley-Cooper has played tests on the wing, fullback and both midfield spots in a distinguished 77-cap career.
Getting an extended crack this season for the Waratahs at centre - the position in which he feels most comfortable - and the knowledge his career is closer to the end than the start have helped galvanise him this season.
"I'm starting to take the fear out of making mistakes and having that conservative approach and just really enjoying it and becoming excited to play football week in week out," Ashley-Cooper said yesterday.
"Because I know it's not going to last too much longer, I'm towards the back end of my career so I'm really going to start enjoying it.
"Every guy at the start of their career is very worried about making mistakes and letting blokes down and letting coaches down.
"I think over time you stop caring about that stuff and the external pressure and just focus on your role.
"It gives every player confidence when you're able to stay in the one position week to week.
"I've always said I haven't had a preferred position but where I've felt most comfortable is 13 ... "
Ashley-Cooper had a look at the British and Irish Lions game against the Force on Wednesday night and was intrigued by what centre combination they might throw at the Wallabies.
He expected Jamie Roberts to start at inside centre and envisaged a three-way battle for the No13 jersey despite rating Brian O'Driscoll as the best outside centre he had played against.
"He was the best 13 10 years ago and he still is one of the best 13s in the world," Ashley-Cooper said of O'Driscoll.
"It's going to be interesting whether they go with [Jonathan] Davies, [Manu] Tuilagi or O'Driscoll in the 13 position."
- AAP