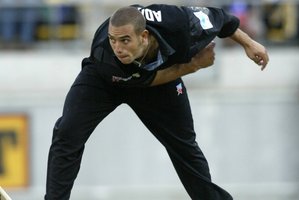 Q: Greetings, Andre. Here we are, sitting in the pavilion at Trent Bridge where you've played cricket for Nottinghamshire since 2007. Do you ever feel the ghost of Sir Richard Hadlee skipping into action around these parts?
A: He's an inspiration here. We were working out his stats the other day. He averaged a shade of 14 [14.51] in his time at Notts and he even did the first-class double, making over 1000 runs and taking over 100 wickets in 1984. The guy was a genius and we don't have many of them in New Zealand. There's probably "Paddles", Sutcliffe, Turner, Crowe and Bond. There are plenty of pictures of him around here as a reminder.
Q: Yes, he always looks photogenic in that follow-through; the 'tache bristling with intent. One statistic you've got over him is a 100 per cent winning record in tests. Do you regret playing just one test [New Zealand's win over England in 2002 at Eden Park]?
A: It's something I've often pondered. Life has a funny way of dishing you a hand. Maybe if I'd been more proactive and media savvy I could've played more but it was an amazing experience and I've still got friends from that team.
I even had my test number [219] tattooed on my chest.
Q: Really?
A: Yeah, it bloody hurt [cue rustle as his shirt is raised to reveal the dark ink over his heart] ... right above the nipple.How long did it take to recover? Not long, but I'm incredibly proud of my history.
Q: So what's the favourite part of your West Indian heritage?
A passion for family. My Dad is from Bequia [part of the St Vincent and the Grenadines island group] and my mum is from Guyana. My Dad is low key but with a bad temper, just like me. Mum is flamboyant, loud, emotional, caring and giving.
Q: Speaking of heritage, you and wife Ardene called your children Dante, 9, and Balian, 6. What is the origin of those names?
A: Mum's grandfather was from Corsica. The Italians and French fought over that land and we wanted something which reflected that place and time so came up with Dante. I think Balian was one of the Knights Templar [of French and Italian origin]. It's the Hebrew spelling. Mum's told me that's the wrong way to spell it but hey, that's what Mums are for.
Q: Back to Nottingham. Where would you take a guest for a beer and what would you be drinking?
A: I'd go to The Larwood and Voce. You go right out of this room, hang a right and you're there. I'd get a pint of Guinness. We go there with the team and the staff let us do what we want ... in fact I'm parked there right now. They change the menu all the time, put the football and cricket on the telly and generally look after us.
Q: On the football front do you support Nottingham Forest or Notts County?
A: Forest, but with no great passion. I don't know anyone in the team apart from a bloke called McGugan. I know the physios better because they've been gracious and generous with their time looking after me and my injuries. I wouldn't be able to run these days without them.
Q: If you hadn't found cricket, what sport would you have played?
A: I'd like to think I'd be playing rugby in France or Japan. I've got the build for it but my tackling technique might've been a bit suss.
Q: Right, you've got a complimentary ticket to any sporting or cultural event in the world. Where are you going and why?
A: A young bloke at the club showed me this video of Tomorrowland [an electronic music festival in Boom, Belgium]. I've never been into that kind of music but, at the ripe old age of 37, I'd be going there. Never heard of it.
Q: What's it all about?
A: Maaate, look at the video on YouTube. You'll be wanting to go too.
Q: Do you think you'd grow back a 'fro for the occasion?
A: Nah, I'm too old for that.
Q: You've been described as the "life and soul of the changing room" in the Grafton United club's recent 150th anniversary book United We Stand. Tell me about opening a can of "Grandma's Old Fashioned Secret Recipe Whoop-Ass" on the opposition during a team talk?
A: We were due to play a club one-day final at Eden Park and I wanted to bring something different so I got a big empty Milo tin and pasted a label on it which featured a smiling African-American woman holding a wooden spoon. I opened it amid great ceremony in the shed and the boys loved it. We gave North Shore a fair pasting that day.