As the cricketing world's focus turns to the Champions Trophy in England and Wales, Andrew Alderson picks a Curiosity XI worth setting the alarm for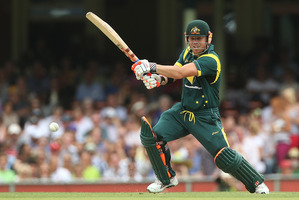 David Warner
Australia
Age: 26
Role: Left-hand opening batsman
ODI matches: 38
Batting: 1124 runs at 30.37; strike rate: 81Best: 163
Warner can be as explosive with his bat as he is with his tweets. He will be scrutinised ad nauseam in England as he recovers from an embarrassing Twitter spat involving a couple of respected Australian cricketing journalists who dared to question the veracity of the IPL in the wake of match-fixing allegations. Does Warner have the maturity to overcome the opprobrium generated by his rant? The Champions Trophy will be a gauge. A pair of ducks in the warm-up matches won't have helped.
Nasir Jamshed
Pakistan
Age: 23
Role: Left-hand opening batsman
ODI matches: 28
Batting: 1040 runs at 41.60; strike rate: 86 Best: 112
Probably the wildcard in this list but there's no doubt the left-hander can play. His 56 off 35 balls against New Zealand at Pallekele in the World T20 exuded batting elegance. All wrists and bat speed, he played the ball effortlessly off his pads and leaned on the ball through the covers. Timing trumped power. His recent form, including the warm-up matches, has been mediocre but expect that to change in a jiffy.
Jonathan Trott
England
Age: 32
Role: Right-hand top order batsman
ODI matches: 60
Batting: 2562 runs at 52.29; strike rate: 76 Best: 137
Trott is batting's tugboat. Perhaps not aesthetically pleasing but certainly necessary to manoeuvre the England ODI ship into safe seas. He's crucial to giving them a platform so the likes of Jos Buttler and Eoin Morgan can swing with abandon late in the innings. The concern is whether his propensity to build slowly racks up the pressure on teammates. Still, Trott is a reassuring presence when he starts working a fan of singles in the V.
Mahela Jayawardene
Sri Lanka
Age: 36
Role: Right-hand top order batsman
ODI matches: 391
Batting: 10892 runs at 33.20; strike rate 78 Best: 144
Has again delegated the captaincy, this time to Angelo Mathews, but remains a Sri Lankan talisman despite ordinary recent form. He's passed 50 just once in 12 ODI innings over the past year as other interests take hold, like his investment in Colombo's Ministry of Crab restaurant with chum Kumar Sangakkara. Considering his appetite for runs and a test average of 49.56, the only thing that surprises about Jayawardene is relatively low numbers in the 50-over format.
AB de Villiers
South Africa
Age: 29
Role: Right-hand batsman/wicketkeeper
ODI matches: 139
Batting: 5542 runs at 50.38; strike rate 93 Best: 146
Wicketkeeping: 79 dismissals (76 catches/3 stumpings); 1.645 dismissals per innings. Best: 5 catches
Cricket is lucky the world's No1 ODI batsman didn't opt for a No10 rugby jersey, swinging a driver on a near scratch handicap or hammering forehands from the baseline. In his 20 matches as ODI captain he averages 92.63 but South Africa have lost seven of those games. The pressure is again on them to win their first international tournament since the inaugural 1998 edition of this event. De Villiers' back also remains a concern with back-up keeper Quinton de Kock on standby.
Virat Kohli
India
Age: 24
Role: Right-hand top order batsman
ODI matches: 98
Batting: 4054 runs at 49.43; strike rate: 86 Best: 183
After a brash start in international cricket, Kohli has settled on the back of World Cup success and a leadership role with the Royal Challengers Bangalore in the IPL. He is the third-ranked ODI batsman in the world and comes into the tournament on the back of consistent IPL form and 144 in the warm-up against Sri Lanka at Edgbaston, one of the tournament grounds. Extra responsibility falls on him as partof a youthful Indian tournamentside.
MS Dhoni
India
Age: 31
Role: Right-hand batsman/wicketkeeper
ODI matches: 219
Batting: 7259 runs at 51.85; strike rate: 88 Best: 183no
Wicketkeeping: 274 dismissals (206 catches/68 stumpings); 1.268 dismissals per innings. Best: 5 catches, 1 stumping
Anyone who watched the India captain dissect the Sri Lanka attack in the 2011 World Cup final will be aware of his poise. He even chose to finish the match with a six-over long-on, much to the marketers' delight. However, with spot-fixing allegations swirling around the Indian Premier League, Dhoni needs to summon all his charm at present as his country's cricket figurehead. Leading a relatively inexperienced side to the tournament will further test his mettle before a demanding public.
Ryan McLaren
South Africa
Age: 30
Role: Left-hand batsman/right-arm pace bowler
ODI matches: 22
Batting: 126 runs at 11.45; strike rate: 70 Best: 33
Bowling: 27 wickets at 31.11; economy rate: 5.07. Best: 4-46
McLaren's statistics don't do his composure justice. Required to hit three runs off the final ball of the third ODI against New Zealand in Potchefstroom, he went into a limbo-like position and hooked James Franklin for six to win the match by one wicket. He is easing his way into the South African squad and has more responsibility in the absence of Jacques Kallis. A more useful bowler than batsman, he has a wealth of experience in English conditions as a former pro at Kent.
Mitchell Starc
Australia
Age: 23
Role: Left-arm pace bowler
ODI matches: 18
Bowling: 36 wickets at 18.38; economy rate: 4.87. Best: 5-20
At 1.96m with controlled aggression, the left-armer oozes pedigree despite a lean test run in India. Memories of his consecutive ODI five-wicket bags in Perth against the West Indies are vivid, especially getting the top four lbw in the first effort. Reliable at bringing the ball back in to the right-hander. Faces the prospect of leading the Australian attack in the Champions Trophy - and potentially the Ashes. It'll be fascinating to see how he comes of age.
Sunil Narine
West Indies
Age: 25
Role: Off-break bowler
ODI matches: 28
Bowling: 47 wickets at 21.68; economy rate: 3.87. Best 5-27
Narine heads to England as the No 1-ranked bowler in ODI cricket, although this is his first major 50-over tournament. The shorter the game, the more dangerous his darts. Opponents will be grateful they're not dealing with the 17.60 average he generates at less than six runs per over in T20 internationals. New West Indies ODI skipper Dwayne Bravo admits Narine is his "trump player" as they try to replicate their 2004 Champions Trophy victory, also in England.
Saeed Ajmal
Pakistan
Age: 35
Role: Off-break bowler
ODI matches: 81
Bowling: 128 wickets at 22.91; economy rate: 4.15 Best: 5-24
With the departure of Murali, Ajmal has become the world's premier exponent of the doosra. His wrist spins like the dials of a safe, the ball whirrs through the air and, whoopsy, it's gone the other way. Ajmal's harder to read than computer code. He struggled recently in the Pakistan domestic competition but had few problems in the 50-over format against South Africa and India. Also completed a 10-wicket test bag in Cape Town during February to prove he's still a weapon.