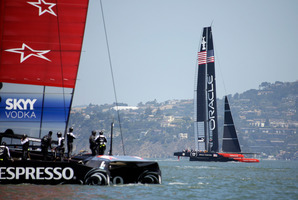 America's Cup organisers are treading water while they await a criticial decision from Artemis over whether they intend to compete in this year's event.
There have been no significant developments from a series of meetings in San Francisco this week, with organisers unable to finalise the race format until they have confirmation from Artemis that they will take part.
It has been nearly a month since the Swedish team wrote off their boat in a devastating training accident, which claimed the life of British sailor Andrew Simpson. With the Louis Vuitton challenger series due to get under way on July 7, the runway for the team to get their new boat on the water and get comfortable sailing it is fast running out, and that is before you even take into account the significant psychological hurdles facing the team after losing their respected colleague.
The syndicate has not issued any statements in regards to their participation since May 22, when chief executive Paul Cayard said Artemis would "only race if our sailing team believes they are safe racing AC72s".
But in a promising sign for the beleaguered regatta, Artemis returned to the water this week for the first time since the tragic accident.
The team, with Australian Nathan Outteridge at the helm, took to the water in their AC45 catamaran - the smaller scale models used in the America' Cup world series. Artemis have since modified their AC45 so it has foiling capabilities.
The only comment on the team's resumption in training, came via the team's official twitter page.
"A good day to get back out on San Francisco Bay in our foiling AC45," the team tweeted.
While the July 7 start date for the Louis Vuitton Cup almost certainly out of reach for Artemis, it is hoped they will join in the racing in late July or early August.
Already the smallest America's Cup challenger series in modern times, if Artemis withdraws from the race, it would leave just two teams - Emirates Team New Zealand and Italy's Luna Rossa Challenge - battling for the right to take on Oracle, the current defender of the Cup.