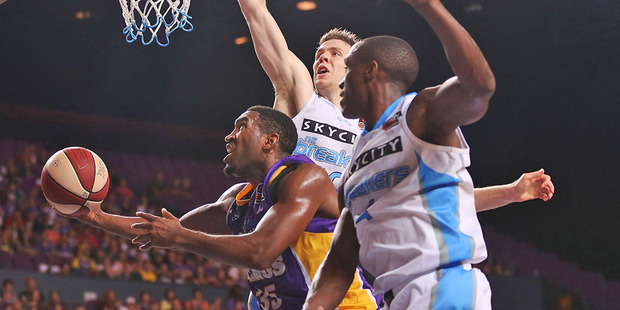 The Breakers have one spot left on their roster in their quest for an unprecedented fourth-straight ANBL title after they added three players today.
Coach Dean Vickerman has signed American power forward Darnell Lazare as one of the two imports and also added Tall Black Jeremiah Trueman and impressive youngster Reuben Te Rangi.
Lazare, 28, played for the Sydney Kings last season and has committed to a one-year deal with a further one year option, Trueman, 26, returns to the club on a two-year contract after playing the last three seasons with the Perth Wildcats and Te Rangi has earned a three-year deal after moving up from being a development player.
Vickerman will leave the point guard spot open until August in the hope Cedric Jackson might return for a third season, which means there's no room for Will Hudson who was the Breakers' second import last season.
The new Breakers coach said recruitment was not simply about swapping one player for another.
"This is not a case of replacing Will Hudson with Darnell, it is more about how do we replace Dillon Boucher?'' Vickerman said. "You can't replace him like-for-like, so we have gone for something a little different. Darnell provides us with some mid-range and perimeter shooting but still has a post game and will provide disruption up the floor.
"We have always looked to up the ante a little each year with Pledger and saw that last year, especially while Hudson was injured, he played extended minutes and responded well. We want to up the ante with Alex again this season and, with Dillon retiring, we needed to go with an import at the four-spot capable of playing [centre] as well. Darnell is the perfect fit, and brings something a little different to the group which will be great.''
"Once we had Lazare secured, we had four points to play with [under the NBL points cap] and wanted absolutely the best player we could get. JT (Trueman) is a Kiwi, is already playing the role we want at the Wildcats and was a perfect fit to come back to the Breakers and be a part of what we think is an excellent four 'bigs' now.''
Lazare, who stands 203cm, entered the NBA draft in 2007 but wasn't picked up. He played in the NBA development league as well as Sweden, Poland and the Ukraine and averaged 10.5 points and 7.4 rebounds a game for the Kings last season.
"Obviously I'm excited to be back in the NBL and really excited about being part of the Breakers organisation,'' Lazare said. "This club has won three championships in a row so they understand how to win and I look forward to the challenges and opportunities that this upcoming season will provide. There's a winning culture here and I want to help continue that success.''
The new players join Tom Abercrombie, Mika Vukona, Corey Webster, Alex Pledger, CJ Bruton and Daryl Corletto at the Breakers.
- APNZ