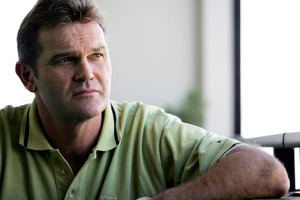 Former New Zealand cricket captain Martin Crowe has announced he has recovered from cancer and that he has no plans for any involvement in the sport that created his legend.
Doctors told the 50-year-old this week that levels of immune-system cancer, lymphoma, diagnosed in December had shrunk to safe levels.
"Everything is pretty well gone or back to normal," he told Campbell Live. "It never goes completely, it's an incurable disease, but all the nodes are back to normal."
Extensive chemotherapy shrunk the cancer, including a large stomach tumour, and Crowe said he was not dwelling on the fact it could return.
"My role is to make sure I feed no stress to make sure the snake, as I call it, remains asleep," he told the show.
He said he had "turned the TV off on cricket" - a part of his life that brought a lot of stress.
"The mind is brutal, life is not meant to be a private struggle and so the cancer has taught me to share and stop living in my mind and to live in my heart and focus on positive emotions."
In a recent interview with the NZ Woman's Weekly, the 50-year-old told how his wife, former Miss Universe Lorraine Downes, helped him through the recovery process.
"She's the love of my life," Crowe said. "I don't know how I could have got through this without her. She sat through every single one of my chemotherapy sessions and has been with me every step of the way, and remained positive. Lorraine is an amazing woman."
Crowe had just started writing his memoirs in October when he was diagnosed with the lymphoma.
He had been made redundant from his job as an executive producer at Sky Television and said he was thinking more about what he would do with his future than worrying about two lumps on his neck.
His doctor broke the news on a hands-free call while he was in the car with 9-year-old daughter Emma, who heard the whole conversation.
He raced home and researched the disease. "When you read that you have a deadly blood cancer, your life kind of flashes before you," he told the Woman's Weekly.
"Then Lorraine walked up the stairs and I burst into tears. I couldn't speak ... For the next couple of hours we held each other and cried."
Crowe was initially told the cancer cells were not multiplying, meaning he did not need treatment, but doctors monitored him regularly.
By Christmas, he started having stomach pains, which were so bad he couldn't stand up straight. Tests revealed he had a tumour the size of an egg in his abdomen.