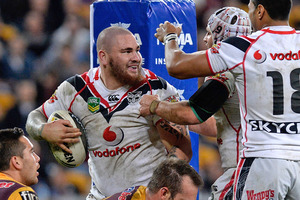 Russell Packer's leak before Monday night's 56-18 defeat of Brisbane isn't the first time the Warriors prop has relieved himself on the field with a sideline commentator saying he saw Packer do it during a game against the Eels last year.
Sydney's Daily Telegraph quoted a commentator, who spoke on the condition of anonymity, was nearby Packer when he urinated on the sideline during a game against the Eels at Parramatta Stadium last year.
Packer admitted himself Monday night's incident, when he was caught on camera urinating into his shorts before kickoff, was not an isolated incident. The Warriors were fined A$15,000 by the NRL, who said Packer's actions were "completely unacceptable''.
"It is not the first time that has happened and it won't be the last time but it is not really the biggest news story in the world,'' Packer told Channel Seven. "I was busting just before the kick off and unless the coach wants me to run off the field and play with 12 men for however long it takes me to get to the toilet ... I am sure most players can relate to going to the toilet because of nerves.
I am sorry if I have offended anyone. A lot of things happen on the footy field that don't get captured by a camera.''
It seems an action was witnessed last year at Parramatta Stadium when he squatted to the ground in what looked like a stretch alongside teammates who were on the interchange bench.
"It was about midway through the half and the guys on the bench were stretching and going through their warm-ups in preparation to go back on to the field,'' the commentator is quoted as saying in The Daily Telegraph. "Russell Packer was squatting down and then he started pissing straight down into the ground.
"He then got his water bottle and started squirting it onto his groin, in what I assume was an attempt to hide the fact he was taking a leak. But it was too late because I saw him urinate before he poured the water bottle. It was just gross.''
Asked if he was certain the offending player was Packer, the commentator replied: "One million per cent certain.
"I sat there scratching my head, wondering what he was thinking and I've since recounted the story to colleagues and friends. I've even consciously looked out for him in Warriors games I've covered since, but Monday night was the first time I've seen him do it again.''
- APNZ