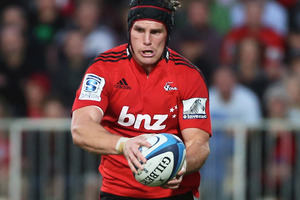 A look back on all the Fantasy studs and duds from the weekend's Super 15 action.
Crusaders 23 Waratahs 22
The star: Matt Todd (26 points) - two tries in two weeks have served Todd well in the fantasy world of late. He's a solid option in the back row.
The dud: Robbie Fruean (5 points) - he's been largely fantasy irrelevant this season and that continued this week. Ignore him for fantasy purposes.
Value pick: Corey Flynn (19 points) - this was his best fantasy game of the season, courtesy of his second try of the year. He's not the greatest option in your front row but props to those who picked him up this week.
Brumbies 30 Hurricanes 23
The star: Nicholas White/Christian Lealiifano (21 points) - White has rewarded patient owners the past two weeks with two big performances while Lealiifano's seven kicks took him past the 20-point mark for the fifth time this season.
The dud: Andre Taylor (3 points) - That's two duds in a row from Taylor who has been shut down on offense by the Chiefs and the Brumbies.
Let's hope the month off does him well before he attempts to exact revenge on the Chiefs.
Value pick: Jack Lam (15 points) - 12 tackles and two turnovers handed Lam a great week for just $4,440,000 in the back row. He's inconsistent but has been solid in his past three appearances.
Highlanders 38 Blues 28
The star: Colin Slade/Ben Smith/Luke Braid (23 points) - Slade registered his best fantasy score of the season courtesy of six kicks while two tries to Ben Smith doubled his try tally for the season. Braid appears as a result of his highest tackle count of the year coupled with his second try.
The dud: Charles Piutau (3 points) - the wintery weather seems to have taken its toll on Piutau's form with this, his third sub-10 point score in a row.
Value pick: Anthony Boric (17 points) - Boric made a rare start for the Blues this week and responded in kind with 20 tackles. Watch the team lists as the season progresses as he could be sneaky play down the stretch for just $3,030,000 in the second row.
Reds 33 Rebels 20
The star: Jake Schatz/Ben Lucas (23 points) - two of the Reds' four try scorers feature here with Lucas coming out of nowhere to post just his second double-digit score of the season. Schatz is a great option in your back row and comes relatively cheap too.
The dud: Jason Woodward (-4 points) - those who didn't realise the return of James O'Connor was going to put an end to Woodward's great fantasy run may have received a shock this week. He's not an option while he isn't kicking goals for the Rebels.
Value pick: Scott Fuglistaller (17 points) - his first try of the season lifted him this week but he's been a solid, cheap, option in the back row for the past month.
Stormers 19 Kings 11
The star: Wimpie van der Walt (23 points) - the Kings may have lost this one but van der Walt topped the fantasy scorers via a solid tackle count and his fourth try of the year.
The dud: Jean de Villiers (6 points) - he's had his moments this season but this week was not one of them, despite the matchup with the Kings. At a price of over 10 million he's jus worth a spot in your team.
Value pick: Van der Walt - at $4,420,000 in the back row he was well worth his price tag this week.
Cheetahs 25 Bulls 30
The star: Werner Kruger (22 points) - he hasn't been much of a fantasy option this season but a try made him one this week. Don't count on it continuing.
The dud: Francois Hougaard (4 points) - he had been on an upward trend in fantasy scoring before posting this clunker. He should bounce back.
Value pick: Heinrich Brussow (16 points) - he's still undervalued at $4,790,000 and is a solid option in the back row for fantasy teams.