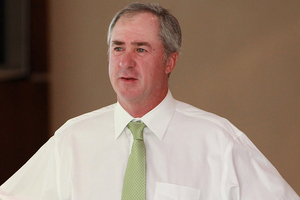 Australian Tim May has quit as the chief of cricket's international players' union, slamming the sports' powerbrokers and the direction they're taking the game.
May, the former Australian Test offspinner, has resigned as chief executive of the Federation of International Cricketers' Associations (FICA), a position he had held since 2005.
He said he was tired of fighting the International Cricket Council (ICC).
"Cricket increasingly seems to be pushing aside the principles of transparency, accountability, independence, and upholding the best interests of the global game, in favour of a system that appears to operate through threats, intimidation and backroom deals,'' May said in a statement on Wednesday.
May was ousted from an ICC panel last month amid allegations of pressure from India to remove him.
FICA called on the ICC to investigate charges of ballot fixing after former Indian legspinner Laxman Sivaramakrishnan was elected to the panel to replace May.
FICA alleged India pressured some other nations' cricket boards and exerted undue pressure on their captains to back the Indian.
May said working for FICA was a great challenge, but he'd grown frustrated by it in the past 18 months.
"I came to the realisation that I was tiring of working in a sport that was increasingly at odds with the principles I respect,'' he said.
"It's time for someone else to continue the battle for change. After 16 years in the player association business, it's time that I handed over the reins to someone who has a fresh zeal for the position.''
May said cricket was repeatedly having allegations of corruption and malpractice, on and off the field, dominating the sport's headlines.
"The ICC board see no reason to change,'' he said.
"I trust that my successor will enjoy a climate where those on the ICC executive board, who are strong and principled, will push for change and remember the primary responsibilities of an ICC director to serve the best interests of the global game.
"Additionally, I hope that the ICC and more of its board's members ... form closer and more productive relationships with players and their representatives, rather than the current trend to resist proper player representation.
"The players deserve better.
"Increasingly, the administrators of the game seek to force out or alienate those who question its alleged misuse of power, or those who seek greater transparency, or provide rational argument against the ills of the administration.
"It appears that some administrators just don't want to be held to account to the standards that are expected of them.
"There is a great opportunity for the ICC to arrest this trend and become one of the world's best-governed sports.
"For the future of the global interests of the game, I hope this happens sooner than later because the current system is failing us.''
FICA will announce its new leadership structure in coming days.
- AAP