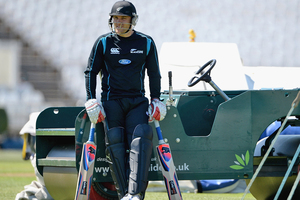 It was no clandestine James Bond plot but New Zealand unveiled Operation Dre at training ahead of the final one-day international against England.
Former national representative and current Nottinghamshire professional Andre "Dre" Adams launched a few thunderballs for New Zealand batsmen eyes only at Trent Bridge.
The 37-year-old is recovering from an injury to his lower right leg. He has called the county his northern hemisphere home since 2007, following in the Kiwi footsteps of Sir Richard Hadlee, Stephen Fleming and Chris Cairns.
Adams chatted with head coach Mike Hesson and bowling mentor Shane Bond as New Zealand build to what could be a first clean sweep against a side ranked above them in the 50-over format since beating Australia 3-0 in 2006-07.
It's not the first time Adams has spoken to the management team. They consulted him about the specifics of playing at Trent Bridge when he was back home during summer.
A dossier began to form.
"We need more of that in New Zealand. Coaches seeking out guys with a bit of knowledge. It's like a book; you don't have to read it, but at least it's there.
"I've only been bowling with the red ball this season but it is traditionally a high-scoring ground in white ball cricket. Those wickets have been amazing [for batsmen]. They get a bit flat later in the game and there's a bit of turn when the ball's goes soft but it's hard to stop people scoring. The outfield is fast and the straight boundaries are reasonably close. It gets a bit chilly later at night but it's not as cool as Christchurch by comparison.
"An option I suggested was to bowl a lot of spin; slow bowlers take the pace off."
Adams acknowledged it was disappointing New Zealand won't have access to Daniel Vettori for that purpose. Vettori is again ruled out with injury. He didn't train with the team but is being given as much time as possible to be considered for the Champions Trophy. In recent days he has been treated by more specialists to try to get his troublesome Achilles tendon to settle.
"He's been a massive part of our cricket for years, our best one-day spinner," Adams said. "While he's around he has to be there but at some stage New Zealand will have to move on. Fortunately those who have come in haven't had to be in his shadow."
Adams has been impressed with New Zealand's test bowling.
"Top of the list was that display of accuracy over a long period from Tim Southee to join Dion Nash on the honours board [for taking 10 wickets in a match] at Lord's. Tim and Trent Boult bowled with pinpoint accuracy at times. Neil Wagner brings a bit of 'mutt' too."
Adams hopes he can find some form of coaching role when he finishes his contract with Nottinghamshire next season. He's thrilled his former Grafton, Auckland and New Zealand teammate Matt Horne is coaching Auckland. Adams says that is a move in the right direction.
"I consider him a very good coach with no ego. He lets guys be themselves which is a massive part of them becoming adults. I think we choke guys a bit in New Zealand; hold them back."
Meanwhile, Twenty20 international Corey Anderson joined the team for training overnight. He will be part of the squad which plays the two T20s against England at the end of the Champions Trophy.