Specialist replacement will be required if Achilles tendon injury prevents veteran spinner from playing.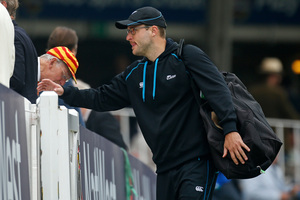 As New Zealand bask in the satisfaction of a one-day international series win in England, an unusual question has emerged: do they need Daniel Vettori to guarantee a clean sweep at Nottingham tomorrow and success at the Champions Trophy?
The lip-service answer is: Yes, in a heartbeat.
Any astute critic would then insert a reference to his impressive statistics, game sense and ability to induce in batsmen the heebie-jeebies.
After the second win over England in Southampton, an unblinking captain Brendon McCullum eyed the post-match press conference and endorsed his long-time teammate.
"With his record of 272 games he will walk back in when fit and ready but I guess my brother [fellow spinner Nathan] will have something to say about that," McCullum grinned. "We'll see. There might be an opportunity to play two specialist spinners.
"Our confidence [in using Vettori] is slowly increasing but I don't want to put extra pressure on him."
Still, the odds on Vettori playing are slim if he is struggling to bowl 10 overs. The extent of the aggravation to his Achilles tendon remains a medical moot point. More should be known this morning after further test results are revealed.
Vettori is a welcome addition to any side when fit, but a shortlist of spin candidates needs to be assembled both now and for the future. New Zealand's ODI fortunes have started to regenerate since Vettori's "retirement" from the format after the 2011 World Cup. Exhibits A and B are away series wins against South Africa and England.
Nathan McCullum (with 48 ODI caps) provides sound cover. What he lacks for wickets (33 at 48.21) and economy (4.84) with the ball, he makes up for with a better batting average and strike rate (19.33 at 85) and brilliance in the field. Kane Williamson can fill in a few overs, too.
However, a specialist replacement is required in case the wickets at Sophia Gardens, Edgbaston or The Oval start to turn, as Lord's and Headingley have, albeit in the tests.
Three options have merit. With New Zealand's tournament starting on Sunday at Cardiff, Jeetan Patel has been taking regular wickets for Warwickshire of late. He was the most successful spinner in the Ford Trophy with 11 wickets at 19.18. There was already talk Patel could have been drafted in at late notice for the tests. In a curious twist, he last played an ODI for New Zealand in the 2009 Champions Trophy final.
To match like for like, left-arm orthodox bowler Roneel Hira has impressed during brief forays in the T20 side. He has a pugnacious streak and rarely loses his composure. In 13 matches he has nine wickets at 33.66 with an economy rate of 7.90. He has tended to drop away over 10 overs domestically.
Fellow left-arm orthodox spinner Nick Beard was a star of Otago's victorious HRV Cup campaign as the top wicket-taker (15 at 12.73 with an economy rate of just 5.96). He could also have opposition video analysts scrambling to earn their keep.
New Zealand have already swapped two Champions Trophy squad players. Ian Butler replaced Trent Boult and Doug Bracewell came in for Andrew Ellis.
Vettori's ODI record
272 matches played
2105 runs at 17.39/ Strike rate: 81.93
282 wickets at 31.48/ Economy rate: 4.12
England attack looking bereft without test stars
England admit they may have to change the way they play before the weekend Champions Trophy opener against Australia after struggling without injured pace bowling stars Stuart Broad and Steven Finn.
Broad and Finn missed the first two games of the three-match series against New Zealand as England lost their proud four-year unbeaten record in home ODI series.
Without them, England appeared dangerously over-reliant on James Anderson and offspinner Graeme Swann, the likes of Chris Woakes and Jade Dernbach unable to contain New Zealand's batsmen.
Captain Alastair Cook was keen to dismiss talk England were a limited ODI side in Broad and Finn's absence.
"I think that would be doing a disservice to the other 13 guys in the squad," he said.
But he conceded England would consider changes if they remained unavailable. "Clearly, you take two premier bowlers out of anyone's side and it's going to hurt the side. You might have to change the way you play; we might have just learned that."
The changes, which might see James Tredwell played as a second spinner, could happen in the dead-rubber third match tonight at Trent Bridge.
"We haven't deserved to win these matches," said Cook. "It would make sense to have a look at our options. We've stuck with the same XI, and been outplayed."
By contrast, New Zealand captain Brendon McCullum said going for a one-day series whitewash over England would trump the need to give squad players match time before the Champions Trophy.
"I don't see rotation of players. A 3-0 win would probably be as good as it gets," he said, after two wins on the back of hundreds by Martin Guptill, including his record 189 not out at Southampton,
"So we'll be doing whatever we can to continue the momentum we've built up - and our selections will reflect that."
- AFP