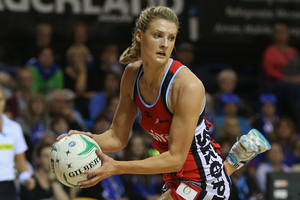 The Central Pulse have set up an intriguing three-way battle among the New Zealand teams for the fourth transtasman league play-off spot with a healthy win over the Tactix in Christchurch.
The Pulse leapfrogged the Steel into fifth spot on the ladder with their 62-45 win, and now only goal percentage separates them from the Magic in fourth.
But with all the teams above them on the points table, with the exception of the Thunderbirds, who have a handy four-point buffer at the top of the table, having already had their bye rounds, the Pulse are the least favoured of the three New Zealand sides still in the hunt.

They not only need to win their two remaining matches following the bye, but also rely on a string of other results to go their way to book their maiden play-offs appearance.
The Pulse are clearly determined to do all they can to have a crack.
Heading into the match, Pulse midcourter Camilla Lees said her side would be treating the fixture like a "mini-final" as they cling to their faint hopes of making the top four.

They couldn't quite find the intensity they were after in the first half, with their attacking links looking uncharacteristically flimsy against what was an extremely inexperienced Tactix defence line.
It was only some very poor shooting from Tactix import Jo Harten and Sophia Fenwick that helped the Pulse to a 30-24 halftime lead. The pair shot at just 63% for the first half, with both missing some sitters under the goal as Pulse defenders Katrina Grant and Te Huinga Reo Selby-Rickit never allowed them to get comfortable.
Buoyed by a wealth of turnover ball won from their defenders, the Pulse attack sprung to life in the second half, piling on seven unanswered goals to seize control of the match.
That saw the introduction of Julianna Naoupu at goal attack as Fenwick's shooting statistics slipped to 12/21. But the addition of Naoupu did little to settle the Tactix frontline, with a couple of early miscommunications on attack allowing the Pulse to surge further ahead.
While the scoreline was convincing in the end, Grant said she was disappointed her side couldn't show more consistency.
"It was an unusual match, it took us a while to get going, but we did execute a few things we've been trying to do at training, which is really pleasing," she said.