With Artemis in doubt for start, watered-down Louis Vuitton series on verge of being two-boat farce.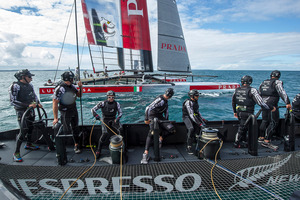 Plans for a significantly watered-down Louis Vuitton sailing challenger series are expected to be unveiled in San Francisco today as it becomes increasingly apparent Artemis will not be ready to take the startline when the regatta opens in a month.
The competing teams will meet today to finalise the race format for the challenger series, which will decide the team that will go on to face defenders Oracle in the America's Cup final in September.
As part of a string of sweeping safety recommendations for the event after last month's fatal training accident involving the Swedish team, the review committee had already proposed that the number of Louis Vuitton Cup rounds be reduced from seven to five to allow more time in between racing for boat maintenance.
Now it appears much of that round-robin series will involve just two teams - Emirates Team New Zealand and Luna Rossa - as Artemis battle to recover from the May 9 training accident that wrote off their boat and, more significantly, claimed the life of strategist Andrew Simpson.
As the countdown to the regatta closes in on the one-month mark, Team New Zealand boss Grant Dalton said he did not see how Artemis could get their boat ready, and learn to sail it in the time they have left.
"It's the elephant in the room and nobody is saying it, but I'll say it - there's no bloody way they're going to be ready," said Dalton.
"I expect they will turn up to race at some point later in July or August, but the reality is Artemis will not be there on July 7."
Ordinarily, not being able to compete in the round-robin would see them eliminated from the regatta, but with just three challengers, Artemis could come in as late as the repechage stage in August.
That would create the farcical situation where Team NZ and Luna Rossa race day after day through the round-robin, with the team that amasses the most points going straight through to the Louis Vuitton final, while the loser would sail off against Artemis in the "semifinals".
"If there were lots of teams they wouldn't be coming at all because they wouldn't make it past round one, but this is not that Cup," said Dalton.
The prospect of Team New Zealand squaring off against the Italian team through the round-robin could make for very tedious and predictable results. The two teams are "friendly rivals", having collaborated for much of the campaign.
The Kiwi team sold the design of their first boat to Luna Rossa, with the idea being that they would both go away and build a second boat independently following the initial testing period in Auckland. But Luna Rossa ran out of time and money to build a second boat, meaning Dean Barker and his crew will effectively be racing their refined model against their first-generation boat.
The two teams held numerous practice races against each other out on the Hauraki Gulf over summer and while the outcome of those races is not known, onlookers have reported a notable speed differential between the two boats.
Dalton was at pains to point out Luna Rossa have since made a couple of modifications to their boat and could not be taken for granted, but later admitted "race days will basically become training days".