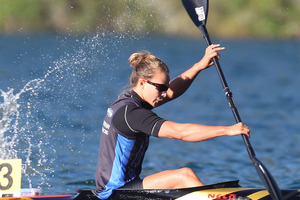 Lisa Carrington returns home this week armed with the knowledge that she's at the top of her game after a stellar campaign in Europe.
The world and Olympic champion won five World Cup titles out of six races, culminating in the K1 500 and 200m double at Poznan, Poland over the weekend.
It repeated her achievement from the Czech Republic a fortnight ago, and was started with victory in the K1 200m at Hungary three weeks ago.
The world championships loom in Duisberg, Germany, from late August. That's now the 23-year-old's focus, after a spot of down time once she gets back to the Bay of Plenty.
"I'll probably have three days off," she laughed.
"The last four weeks have been pretty tough, so I'll ease back into training. There'll be things to recover after doing three regattas in four weeks and obviously I've got things to work on."
Not much, you might think, after another display of dominance, which also gave her the information she'd been seeking - that longer term a crack at the Olympic double in Rio in 2016 is within her capabilities.
Hoping to do it, and knowing it can be achieved are two vastly different things. That's a satisfying aspect of this European campaign for Carrington and coach Gordon Walker.
Carrington held off two Poles in the 200m final, Marta Walczykiewicz, second in 43.381, and Karolina Naja, third in 43.517.
Naja had beaten Carrington in their heat the previous day, which was raced shortly after the New Zealander had her 500m final.
As for the worlds, Carrington will arrive the racer to beat in her disciplines.
"Obviously my times have been good and I've raced against a great bunch of athletes over the last three regattas so that does give me confidence that I do have the goods," she said.
"It's going to be tough every race because the competition is so strong."
There was more delight for the New Zealand squad late in the regatta when North Shore's Teneale Hatton won the marathon K1 5000m final.
It followed second and fourth placings in the same event at the last two cups.
Hatton won in 22min 01.362s, from Canada's Emilie Fourcel, 1.4s back with South African Bridgitte Hartley third.
In the men's race, Daryl Fitzgerald was eighth and Ben Fouhy 12th, behind Australian Ken Wallace.
After a break at home, the New Zealand squad will head to the Gold Coast for a training block in warmer climes before heading back to Europe.
K2 pair Hatton and Rachel Dodwell finished sixth in the 200m A final and a disappointing ninth in the 500m decider.
K1 1000m specialist Fouhy was third in the B final in 3:37.034, behind winner Jost Zakrajsek of Slovenia, who clocked 3:35.938.
The young K4 1000m quartet of Daryl and Jarrod Fitzgerald, Jasper Bats and Zac Quickenden finished seventh in their A final in 3:10.080, having been fourth at the halfway mark. France won in 3:04.984.
- APNZ