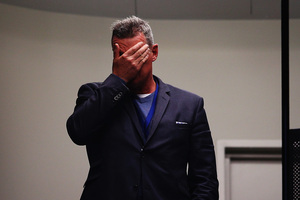 Many aspects favoured the Blues. They were playing the lowest-ranked side, under cover on a fast track, chasing points for the playoffs and All Black berths.
But they nosedived with greater hustle than the sharemarket crash.
The main conclusion is the Blues lack enough mental strength to deliver consistently in a gruelling competition.
The haunted looks on the faces of the coaching staff captured that and the dismay of their 38-28 defeat by the Highlanders in Dunedin. There must have been some disbelief too that the Blues had not heeded the lessons from recent fluctuations against the Rebels and Brumbies.
The Highlanders secured their bonus point victory after half an hour.
"We were blindsided, really," said coach Sir John Kirwan.
His side had collapsed, the Highlanders found their rhythm early and blasted through the Blues' fading defences.
Everywhere you looked the Blues were vulnerable.
Halfback Piri Weepu was knocked into next week by an accidental Mose Tuiali'i knee though he recovered well in the shed.
The helplessness invaded Ali Williams' leadership as he battled referee Jonathon White all evening.
Resistance came in pockets. The Blues' defiance was fractured rather than cohesive and ineffective.
The Highlanders locked on to their massive possession advantage and made it count. Where earlier in the season they looked disjointed, this time they were in the zone.
And they made it pay. Ben Smith twice, Tamati Ellison and then Hosea Gear burst past the bemused defences inside half an hour.
At the start of last month the Blues were right in the scrap to qualify for the Super 15 playoffs. There were dangers though and Kirwan spoke about the Blues' need to get victories before the tournament intermission.
But in Dunedin the mid-section grind had told on the young squad.
"We did not have the ability to stop that flow and we just imploded, guys trying too hard to get us back in the game, which is a positive, but they were trying as individuals," said Kirwan."It was very disappointing."
The playoffs were still a possibility but only that. That marginal fate was probably out of their grasp unless they could at least arrest their form slide.