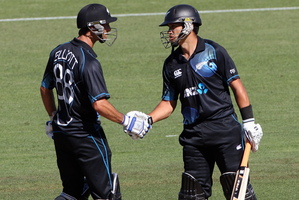 When it comes to age at cricket's Champions Trophy this month, New Zealand is the Dad's Army.
Eight of New Zealand's 15 players (equal with Pakistan) are 30somethings, which may hold a key to why the country's 50-over one-day international side is perceived as far more threatening than the test side, despite both being ranked eighth in the world.
In the ODI squad Daniel Vettori, Kyle Mills and Grant Elliott are 34, Luke Ronchi, James Franklin and Nathan McCullum are 32 and Ian Butler and captain Brendon McCullum are 31.
Compare that to the test squad where just four players - Brendon McCullum, Peter Fulton, Bruce Martin and Mark Gillespie were over 30.
"Age is no barrier" and "if you're good enough, you're old enough" are cliches bandied about the cricketing scene but, with most of the Kiwi 30-somethings balancing sporting careers, young families and mortgage burdens, they can offer life experience and mature grounding to a team.
It's not like Captain Mainwaring, Sergeant Wilson and Lance Corporal Jones are tottering around the outfield.
The hypothesis doesn't take into account games played - the other crucial component of experience - but surely all theories are welcome when endeavouring to explain how New Zealand can beat any team in the one-day world but struggles to bat two sessions in a test.
Elliott, with 44 ODI caps, is a case study of why the one-day team struts with more confidence. In the first ODI at Lord's he compiled 27 off 43 balls, working the strike for century-maker Martin Guptill. The fourth-wicket partnership of 47 off 71 balls steadied New Zealand's push for victory.
Elliott found himself similarly poised in South Africa during January. After a humiliating 2-0 test series loss, he bolstered a squad beset by withdrawals and recovering from the Ross Taylor captaincy saga.
Coach Mike Hesson picked Elliott on the basis of his "invaluable knowledge and experience of South African conditions", having been born and raised there. Before that series, Elliott's last ODI was in December 2010.
Elliott looks set to fill a similar role in the ODI matches and Champions Trophy in England where he made his limited overs debut in 2008, plucked from league cricket in Surrey. He was centre stage in one of New Zealand's more controversial moments at The Oval. England captain Paul Collingwood would not reverse a run-out appeal on the Wellingtonian after he clashed with bowler Ryan Sidebottom and fell while attempting a single.
New Zealand won by one wicket off the last ball on the back of overthrows. The television cameras captured much jeering and fist-wielding on the visitors' balcony.
"It was satisfying being part of a series-winning team [New Zealand beat England 3-1]," Elliott says. "That rates as one of my most memorable moments. It brought the team closer. I like that sort of stuff. Some would say the scenes were unacceptable but they showed a lot of emotion and that's what you want from team-mates. That's why I play. We have a lot of players [six] back from 2008, we're quite settled in our roles."