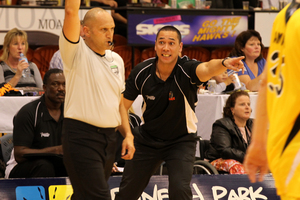 Trust is crucial in any coaching team and the level between Dean Vickerman and Paul Henare is so high they stayed at each other's houses even when coaching opposing sides.
Henare has today been confirmed as Vickerman's assistant at the Breakers for the next three years and will take on the role Vickerman previously filled as Andrej Lemanis' assistant and defence coach. It was an appointment widely expected when Lemanis' departure from the Breakers was confirmed after eight seasons to become Australia coach. Vickerman was the only candidate the Breakers considered to fill the head coach's role and Henare was the only individual Vickerman wanted as his assistant. Judd Flavell will continue in his role as a second assistant as well as academy coach.
"Paul is the best person for the job," Vickerman said. "For me, when he was here as a player he, more than anyone, lived the trademarks of the club and the player group put him up there as a role model.
"In a coaching sense, I like the path he has taken to get back to here.
He has gone out and coached in the New Zealand league for three years and done very well so far and he has also taken up a position with the Tall Blacks.
"We have a trust in each other, to a point when Waikato was playing Hawke's Bay, I would stay at his house. We had that type of relationship. Win or lose, we would still sit down and chat about the game and it definitely wasn't uncomfortable for us to do that."
Henare played 250 games for the Breakers and ended his career by helping the club to their first Australian NBL title in 2010-11. He was instrumental in turning them from no-hopers into league top dogs and he was the first Breakers player to have his number (32) retired.
The 34-year-old immediately became Hawke's Bay coach in the New Zealand NBL and this year is in charge of Southland. It's a role he will continue until the end of the season and he will also help the Tall Blacks during next month's international campaign. He won't begin work with the Breakers until August but he's already thinking of ways to help evolve the team.
Henare is ambitious and wants to be head coach one day and also wants the Tall Blacks job. He has told Vickerman and Tall Blacks coach Nenad Vucinic that. But he also understands he has a lot to learn.
"After spending so much time with the club and knowing I was going in to coach, I would be lying if I said I didn't want to one day come back in some way," he says. "It's moving a little faster than I predicted but I'm very happy it's turned out this way. I'm very, very excited and honoured to be going back.
"It's such a wonderful club and the foundations are already built. You are just adding your piece to the puzzle. I know Deano wants to put his spin on things but you don't have to reinvent the wheel when there's been so much success."
The Breakers will announce three player signings this week, with promising swingman Reuben Te Rangi to be given one spot and import Will Hudson another in the frame.
Vickerman said they would leave the point guard position vacant until August to see whether league MVP Cedric Jackson would return or Tom Abercrombie or Alex Pledger invoke out-clauses in their contracts.
- APNZ