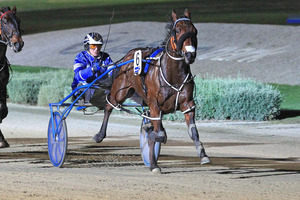 Records tumbled like there was an elephant let loose in a Real Groovy store at Ashburton yesterday as the Jewels of harness racing produced no fewer than five New Zealand records, more than half the nine-race card.
The best was left for last when Mark Purdon produced Border Control whose time of 1m 50.6s in the $150,000 KPMG Advisory 3YO Emerald smashed not only the three-year-old New Zealand mile record but also the all-aged record, which had been set only an hour-and-a-half earlier by rising four-year-old star Christen Me.
"He got a nice trip. Dexter's [Dunn] horse [Bit Of A Legend] had to do a bit of work and was able to capitalise on it that last bit," said Purdon, who won three Jewels races on the day, bringing his tally to 17.
Bit Of A Legend was second and Ohoka Punter third.
Earlier, Christen Me had lowered the record to 1m 51.5s in the $150,000 Auckland Reactor 4YO Emerald despite getting caught up in early traffic from his horror draw.
After the first quarter Christen Me was in a small bunch of stragglers four lengths off the leading group.
"I ended up quite a way further back than I wanted to be on my first quarter and I sort of made my move to give him a bit of a breather," said Dexter Dunn, stable driver for West Melton trainer Cran Dalgety.
"That's the value of a horse like him, he just does pace so easily."
The $150,000 Copthorne Commodore 2YO Emerald was won by Clevedon trainer Barry Purdon's Sky Major, who also overcame a bad draw and some traffic problems to win in yet another record time, 1m 52.9s, beating stablemate Maxim.
The win was the only one of the day for part-owner Christchurch restaurateur Trevor Casey who had a remarkable eight runners on harness racing's championship day.
In the female pacing Jewels races, Venus Serena had to dig deep to win the $150,000 Ashburton Guardian 2YO Diamond after Mark Purdon's filly Te Amo Bromac took the lead inside the final furlong.
"She got past me at the 150 but to this thing's credit [she] came back and got her on the line so a great effort by her," said driver John Dunn, who drove for uncle Geoff Dunn, the West Melton-based trainer.
Champion filly Adore Me won the $150,00 Mid Canterbury Trotting Owners 3YO Diamond for Mark Purdon.
Tim Butt's Elusive Chick won the $150,000 Woodlands Stud 4YO Diamond.