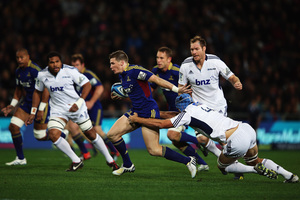 There may have have to be a terminology change at the end of this season for the Blues - they may face an end of season audit rather then review.
Somehow the Blues have misplaced 120 minutes of rugby: they can't account for their whereabouts in the clash against the Brumbies or for the first half of last night's game against the Highlanders.
Those 120 minutes have vanished off the balance sheet and such is the way of these things, the points-for tally is looking like it will come up short. The Blues could yet find a way to scramble into the playoffs, but for all their talk of still being in the race, they know they would have been a far greater chance had they picked up eight, if not 10 points in the last two weeks instead of just two.
Last week's meltdown against the Brumbies was put down to poor preparation - an unacceptable failure to arrive at Eden Park in the right frame of mind. The loss to the Highlanders was about failing to react as a team - as a cohesive unit to an impressive attacking onslaught.
"It was just one of those games where we couldn't get our hands on the ball," says captain Ali Williams.
"In that case we needed to go back to the basics and tighten on defence but the game was that quick it was hard. We had individuals doing things rather than what we should have been doing within the system.
"It just shows that any team on their day can win and this is a fantastic competition. That was probably one of the best attacking 40 minutes we have faced all year. Sometimes when things are not going your way, you have have to work your way out of it by doing the simple things. Unfortunately we got caught up trying to do it ourselves and you can't win a game of rugby like that."
The fact the Waratahs and Cheetahs both lost over the weekend means that the Blues' defeat in Dunedin was more disappointing than disastrous. The fight for the last playoff spot would appear to be between the Cheetahs, Blues and Crusaders. The New Zealand sides have a game in hand and the Blues also have the advantage that they will meet the Africans.
That game looms as the season decider - if the Blues can win in Bloemfontein, that may be enough for them to sneak in. If they do, those 120 missing minutes will not be so damaging, but it is a big if.