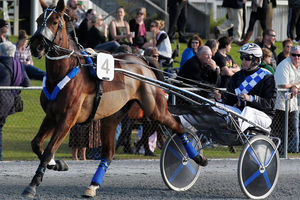 If the Bettor Cover Lover who finished third in the Auckland Cup three months ago turns up at Ashburton tomorrow her Jewels final is as good as over.
And that is exactly what co-trainer Brent Mangos is expecting.
The newly formed, and possibly short-lived, 5-year-old section of the Jewels will be held tomorrow, with all three races having dominant favourites.
As a dual New Zealand Cup winner Terror To Love should win the battle of the big boys, especially after drawing inside arch-rival Gold Ace.
While Terror To Love has been beaten a few times this year they have usually been at the absolute highest level and the only rival remotely in his class is Gold Ace, who has struggled with a myriad of problems for months.
So Terror To Love should win providing he can hold the inside advantage.
Springbank Sam only needs to produce his best to win the 5-year-old trot as he is a genuine open-class horse racing mainly intermediate performers so is one of the few horses all weekend capable of overcoming the extreme outside draw.
In fact, the draw probably helps him as he has issues when scoring up but will have plenty of room to move from out wide.
So the most intriguing of the three finals tomorrow should be the mares, where most of the big names have drawn wide but all have gate speed.
That could have punters thinking Bettor Cover Lover will be vulnerable from barrier six, especially after a last-start failure in the Messenger.
However, Mangos is brimming with confidence.
"She was below her best in the Messenger but she has bounced right back," he says.
"In fact, the way she worked last weekend I'd say she is as good now as when she ran third in the Auckland Cup in March."
That, coupled with the fact Bettor Cover Lover showed enough gate speed to lead the boys in the Taylor Mile two starts ago at Alexandra Park, suggests she will win her second Jewels tomorrow.