When assessing the form for the Harness Jewels events back those runners who will be near the pace.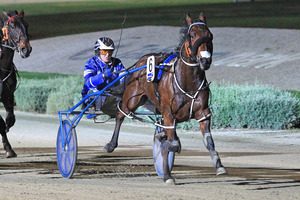 Here is the simplest advice for punters considering backing almost any horses drawn wide at the Harness Jewels today - don't.
You may be tempted by good odds for classy animals, like Isaiah or Franco Nelson, but unless the Ashburton track turns into a mudbath today wide draws aren't going to be fun for horses or punters.
As much as Ashburton looks like a fair track the super-fast times in elite level racing these days means even on the biggest tracks mile races are dominated by leaders because they don't come back to those in the second half of the field.
So while not all the races today will be won by the horses in the lead, trail or one-one starting the last 800m, most will. The most obvious exception could be Daenerys Targaryen (R2, No 8) because wide draws can easily be trumped by good manners in a 2-year-old trot.
She is getting things right at a time when the most talented of this crop, One Over Da Moon (13) is getting them wrong.
If the latter brings his A-game he can still win a race where Twentytwo (12) and Trouble Rieu (7) appeal as each-way value.
But that might be just about it for the wide draws today, although Christen Me (R7, No 13) is almost certain to come from his second-line draw and win because he is a 1:50 miler racing horses capable of nothing like that.
Jason Rulz (11), Field Officer (1) and Lets Elope (2) are the best trifectas hope there.
As hot as Christen Me will be Adore Me (R3, No 3) will be even shorter as she is a freak, bordering on champion and Horse of the Year.
The most interesting part of her race will be whether Delightful Christian (5) has a crack at her early and then what time Adore Me paces as she wins by about three lengths.
The opening race sets up beautifully for the three favourites Carpenters Daughter (2), Pemberton Shard (1) and Elusive Chick (11) to settle and dominate but Carpenters Daughter is a mare who has plenty of seasonal issues, so the other pair provide better value.
As straight-forward as the 3-year-old trot looks a mistake by one favourite, Royal Aspirations (1), could greatly hinder the other, Blitzthemcalder (10), who is drawn to follow him out.
If they are both on their best behaviour then they should lead-trail and Blitzthemcalder would be narrowly favoured to run past the Kiwi trotter.
But they have their quirks and Prime Power (7) with his gate speed and Sheemon (12) with his manners appeal as at least place value, maybe each-way in the case of the former.
Venus Serena (R5, No 5) is another of the big guns today to draw well and she is also one of the few who probably could have won even if she hadn't.
Her autumn Alexandra Park form was extremely dominant and she is in the zone. With her gate speed it would be a surprise if she didn't get the front and from there the race would be hers to lose.
Sabellian (2) is the best drawn of the Mark Purdon trio and has the gate speed to look for an early trail, with the surprise of the race being Purdon choosing to partner Rocknroll Arden (13), giving up the drive on Te Amo Bromac (7).
All are chances but the best place value is Snooki (10) who should do no work on the markers so her $3.50 fixed place quote is very fair.
The 4-year-old trot comes down to whether Escapee (R6, No 1) behaves herself and races up to her best form because if she does she should win.
Stent (5) is an obvious danger while Flying Isa (6), who won the juvenile Jewels here two years ago looks one of the genuine each-way value chances of the day around the $10 mark as he will like the mobile and sprint trip.
Aussie raider Allblack Stride (R8, No 4) looks the leader and the one to catch in the juvenile pace but there is plenty of talent drawn to be sitting around him, including Racer (1), Maxim (5), Regulus (6) and Sky Major (11).
Sky Major could be the blowout sitting just off the speed but the his chances and those of Isaiah (8) could well depend on how fast the crucial second 400m sectional is paced.
The best has been saved for last with four group one winners meeting in the 3-year-old male pace but Border Control (1) has the advantage.
He has the gate speed to lead and then choose to stay there or hand up, and if so, who to.
He may not have the raw class of Ohoka Punter (3), Bit Of A Legend (5) or Franco Nelson (8) but what beats him will win.
Bit Of A Legend looks back to his best and is therefore the most likely danger in a great field for what is usually the race of the day.