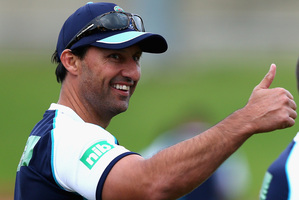 Queensland mining magnate Clive Palmer apologised yesterday for calling NSW league coach Laurie Daley a grub, but the damage may already be done.
The Blues rallied around the rookie State of Origin coach following the unexpected sledge from Palmer.
And fiery forward Anthony Watmough made clear Palmer's comments would not be forgotten quickly, and were being used as ammunition ahead of Wednesday's series opener in Sydney.
Palmer had been describing the lengths he would go to to ensure star five-eighth Johnathan Thurston would be able to take the field for game one. Thurston could be called on to fly home to Townsville for the birth of his first child.
Palmer, who owns a private jet said he would make sure Thurston was there on game day.
"[Thurston] is the best halfback in the world," Palmer said.
"We know that, those grubs Laurie Daley and those [NSW] guys, they know that too, and they're desperate to win.
"They'll do anything."
- AAP