Big things expected from cricketer inspired by Adam Gilchrist, and now playing for the place of his birth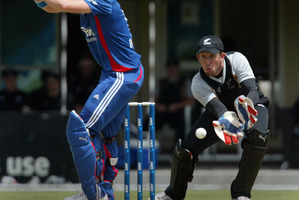 New Zealand can thank former Australian wicketkeeper/batsman Adam Gilchrist for the acquisition of Luke Ronchi.
Gilchrist was recruited by the Perth Cricket Club in the summer of 1994-95 after failing to get regular game time in New South Wales.
He made a telling impression on a 13-year-old who saw what was possible when you played at the top of the order and took the gloves. Ronchi went on to represent Australia in four one-day internationals and three twenty20s in 2008 and 2009.
"If I can be even the slightest bit like him [Gilchrist] that'd be amazing. He was someone I looked up to. Our styles are hopefully quite similar."
Last night, after a four-year stand down which ended in January, Ronchi got the chance to prove himself again at international level, this time representing the land of his birth. Making his New Zealand ODI debut at Lord's also presented the opportunity to make a statement in the three-match series ahead of the Champions Trophy.
"Everyone wants to play here so to debut is awesome. I've only watched cricket here in the past."
Reflecting on his unusual path to New Zealand honours, Ronchi said: "It's interesting, I don't think anyone's done it before. If I didn't try it, I'd regret it."
Ronchi was born in Dannevirke but moved to Australia with his parents just before he turned seven. His parents now live back in Napier while he represents Wellington in domestic cricket.
As the adage goes, you don't get a second chance to make a first impression. Ronchi lived by that when he debuted for Wellington at Karori Park in March 2012. He made 111 off 91 balls against Central Districts. National selection antennae went frenetic.
Back at the PCC, one of the club song lyrics is: "We play all our cricket in true demon style; trying always to win by the proverbial mile."
Okay, it's not Lennon and McCartney, but it's something Ronchi has exhibited in all formats. His tendency to leave balls outside off stump is minimal. They generally take a bruising.
He says that comes from a philosophy generated by crippling moments of anxiety in his career.
"It was a big problem of mine for a long time. I've had bad years where I've thought it's not going to get worse than this and I found I just had to go out and enjoy my cricket. I still get nervous but I always reflect on the fact that whatever you've done getting to this point must have been good."
Tomorrow's second match of the series takes place in Hampshire at a ground near Southampton.
Ronchi is familiar with the area from his time playing for the Bashley Rydal club in the Southern League.
"I was 18 when I first played there. The wickets were nice and flat."
Perhaps it'll be a second chance to make another impression.