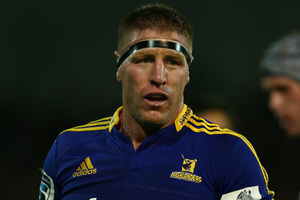 As of next month, Brad Thorn will be unemployed.
His contract with the Highlanders will be finished and he definitely won't play ITM Cup rugby this year.
Instead, there will be a welcome rest, but with the prospect of more rugby to come. Another season at the Highlanders remains an option, but so does playing overseas.
Remarkably, at 38, Thorn has this year been one of the most consistent players at the Highlanders despite a series of incredible ups and downs starting in February, 2011 - earthquakes, playing for the Crusaders in a losing final against the Reds, a World Cup victory, playing in Japan, winning a Heineken Cup with Leinster, returning to Japan before finding himself in the Greenstone Valley near Queenstown on a pre-season trip with Jamie Joseph's men.
As Thorn says, it's been a "crazy" past couple of years and the future is at the forefront of his mind as the Highlanders' horror season stutters to a close.
Not surprisingly, a rest is high on the agenda.
"One thing I do know is that I want to have a good break," he says. "I haven't had a rest for about 2 years. Previous to that, I'd play season after season after season. I don't get injured much so I'm playing all those seasons year after year after year. I wouldn't mind freshening up my mind.
"I enjoy my footy. I wouldn't mind playing another season, I don't know where. I need to think about that or otherwise do something else."
Thorn admits this has been the toughest season of his playing career, one that started as a teenager with the Brisbane Broncos in the NRL. His return to Dunedin with his family - he was born in Mosgiel before making the move with his parents as a boy to Queensland - was an emotional one for him. He still has friends and family in the deep south, but the rugby side of things has been a huge disappointment.
Where the Highlanders would be without him this season hardly bears thinking about. Thorn played a starring role in their only victory this season - the heart-stopper against the Sharks in Dunedin - and has consistently given his all for the cause, including stepping in as captain.
Returning to Dunedin this week has been a boost after three defeats overseas to the Kings, Bulls and Force. He says he is lucky his wife and four children are extremely adaptable. The one constant in his career has been his work ethic and professionalism.
"Quietly, I'm pretty proud of my form," he says. "To me, tighthead lock is about workrate, physicality and scrummaging and your work in defence. I just feel positive about those parts of my game.
"It's certainly not fun losing all the time. Especially when you put so much work in. You see work on the field, but there's work off the field that goes in too. But for me, I still feel like I'm playing pretty decent football. I still enjoy competing. It's certainly been a tough year but I have played in some tough years before. This is definitely the hardest one, though."
Asked if this season's results - a win and 11 defeats - would play a part in his decision-making, he replies: "If I was to play again, would I play another season here? I'd have to think about it. Am I adding to things here or do you give someone else a go? I don't know. Do I want to go to Europe and play some footy? I don't know. I still feel very capable.
"This has meant a lot to me coming back here. But there are opportunities overseas too and the type of game which I really enjoy which is the tight game.
"At my stage of life it's not being an All Black ... if I wasn't playing at this level then I might just play club footy."
- APNZ