The Magic are looking forward to once again facing the Steel, and their towering Jamaican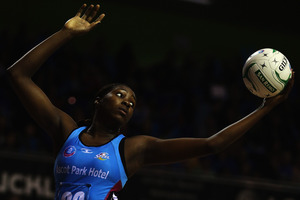 The Southern Steel may have been dismissed as a one-woman band, their style of play boring and predictable, but Magic defender Casey Kopua can't wait to get another crack at them.
Fortunately for Kopua, because of some curious scheduling in the transtasman league, she had to wait only two weeks between her side's seven-goal loss to the Steel in round nine, and tomorrow's rematch in Rotorua. It will be the third straight week Kopua and her defensive partner Leana de Bruin have taken on one of the league's Jamaican giants, with the Magic facing Romelda Aiken's Queensland Firebirds in between their two meetings against the Steel, led by 1.98m super-shooter Jhaniele Fowler.
The increasing influence of super-tall shooters in the league has led some to bemoan the one-dimensional gameplans of teams lucky enough to have one of the gun shooters at their disposal, with the concern being netball will be reduced to a jumping contest for the defenders. But Kopua said that, as a defender, the challenge did not get any greater than trying to contain a tall target like Fowler.
"I don't find it boring, it's a really good challenge for us," she said.
"I'm glad we're getting a second go at Jhaniele, it gives us a chance to try and suss things out that we didn't do right last time."
Averaging a shade over 50 goals a game, Fowler has shot 200 more goals this season than the Magic's Irene van Dyk.
The key to shutting Fowler down sounds simple enough - just stop the ball from getting to her. But it is an approach that requires relentless defence and hands-over pressure right throughout the court for the full 60 minutes, as was demonstrated by the Melbourne Vixens last Monday.
Nothing separated the two sides at halftime in their round 10 clash, but as the Steel tired over the second half the mistakes came, their execution fell away, and the ball started to fall the way of Vixens defenders Geva Mentor and Bianca Chatfield.
"It's sounds easy, and you practise working at that intensity, but when it comes to putting it into action it's really hard," said Kopua.
"We kind of need to accept that as defenders we are going to get beaten most of the time, but it's those little scraps we do get that we need to make the most of."
The Magic did a poor job of capitalising on those little morsels they were handed in their previous meeting with the Steel, coming unstuck through a disjointed attacking effort.
It was thought that loss spelled the end of the Magic's title defence, and the Waikato-Bay of Plenty side would succumb to the curse of the premiers like the winners before them. But a thrilling extra-time win over the Queensland Firebirds in Brisbane last weekend resurrected the defending champions' play-off hopes.
The Magic are still on shaky ground. They need to win all their remaining matches to guarantee their place in the top four, although having rediscovered their ability to grind out a win - no matter how ugly - last weekend, their task now seems a lot more achievable than it did a week ago.
"I felt there against the Firebirds there were definitely glimpses of things we did as a team and as individuals that we did last year," said Kopua.
Round 11
ANZ Championship
Tomorrow: 2.10pm NSW Swifts v Adelaide Thunderbirds, Sydney; 4.10pm Queensland Firebirds v Melbourne Vixens, Brisbane; 7.20pm Waikato-Bay of Plenty Magic v Southern Steel, Rotorua.
Monday: 7.40pm Mainland Tactix v Central Pulse, Christchurch.
Byes: Northern Mystics/West Coast Fever