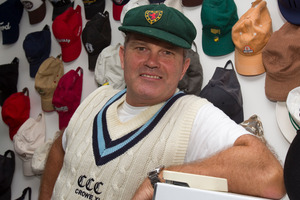 Martin Crowe has called John Parker's document on the "Taylor Affair" ill-advised in a new book.
Crowe, a close friend and mentor to Taylor, said his involvement in Parker's movement for change was brief and he asked to be removed from the now infamous email list.
Under the threat of legal action, Parker eventually apologised to New Zealand captain and coach Brendon McCullum and Mike Hesson.
"At a time when most New Zealand cricket followers were trying hard to move on after the unsatisfactory rumblings behind the scenes, the Parker document merely stirred things up again, and not in a positive way."
New Zealand's greatest batsman has penned a memoir, Raw, his second after 1995's Out on a Limb.
In it he talks frankly of battles won and lost on the pitch and, most pointedly, as an employee of Sky Television, and of his ongoing fight against lymphoma.
After a little-boy-lost start to his career, he went on to become one of the finest players of his generation, scoring 17 test centuries at 45.36 (outstanding for a New Zealander) before injuries took hold.
Less is known about his career in television and Crowe lays it on the line.
His relationship with the pay TV network began with Max Cricket - an ahead-of-its-time prototype of T20 - and morphed into executive producer of cricket when Sky gained the rights in 1999.
Crowe described himself as caught between a "Cameron sandwich", referring to veteran head of sport Kevin and his "ambitious" son James.
After CEO Nate Smith left in 2001, Crowe believed the fun went with him as Sky went corporate, dominated by bean counters.
He talks of a coup launched against him by Cameron the younger in 2005 and his eventual sacking as executive producer of cricket in 2008, following letters from NZC and the players' association bosses Justin Vaughan and Heath Mills complaining about critical comments he had made to the media after a test loss in Adelaide.
"John [Fellet, Sky CEO] and Kevin [Cameron] were in no mood to discuss it," Crowe wrote of his immediate dismissal.
Crowe was "demoted" to running the Rugby Channel, which he enlivened by broadcasting 1st XV fixtures, boosting subscription numbers significantly.
"In my quiet moments I was pleased not to have to deal with the Camerons again. James had got the promotion he wanted and could work hand-in-hand with his father."
Crowe, however, reserves his sharpest barbs for Richard Last, "a sales rep from way back" who last year took over from Cameron the elder as director of sports content and programming and began "slicing and dicing, dividing and conquering".
"Richard had no experience whatsoever in television production, and he didn't like or even follow sport very much ..."
Executive producer jobs were culled, including Crowe's.
Soon after he left Sky, Crowe was dealing with the twin "snakes" of cancer and New Zealand Cricket's demotion of Taylor, both of which threw his life into turmoil.
Crowe admits he has been emotionally stunted, something he puts down to being picked for teams so far out of his age group - Auckland under-23s at just 14, Auckland 12th man at 15, New Zealand under-20s at 15 and New Zealand at 19 - and spending most of those days scared and bewildered.
Crowe is a deeply emotional, sometimes troubled soul and there are uncomfortable moments in Raw when you feel as though you're intruding into his life, but perhaps the writing was cathartic.