Lucrative test in Japan will have the purpose of developing younger players for 2015 and 2019 World Cups.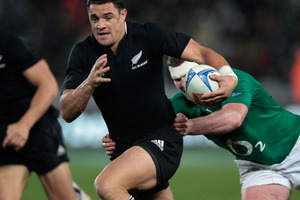 Confirmation yesterday that the New Zealand Rugby Union is in talks about playing a test in Japan, probably Tokyo, later this year has shone a light on Steve Hansen's plans for his team's European trip.
Any extra test, the NZRU are at pains to point out, would not be for revenue-gathering purposes, although there is no doubt it has the potential to be lucrative. Rather, chief executive Steve Tew said, it was for developing the younger members of the squad with a view towards the 2015 World Cup. Some, for example flanker Sam Cane, could still be playing in the 2019 World Cup, which happens to be in Japan.
The Japanese test would come before the All Blacks' matches in Paris, Dublin and London, and it is understood the All Blacks would send a split squad - the younger members who play in Japan will join the others in Paris.
For Hansen, it's a way of getting a good look at how his young players operate on tour.
He said after the stinging defeat by England at Twickenham last year, the fourth test of four, that he wanted to play only three in Europe this year.
There was a feeling the November tests against France, Ireland and England could be a way to blood younger players ahead of 2015, but this way he gets the chance to see them in action with virtually no chance of a loss.
It would also be a win for jersey sponsors AIG, whose funds have meant the NZRU can afford to play fewer tests abroad. The exposure they will get in Tokyo is likely to be massive.
Tew said his organisation was "considering the value of another test this year as part of a much wider strategy focusing on the team's development heading towards 2015.
"As a result we have been exploring an option with the Japan Rugby Football Union for the All Blacks selected for the Air New Zealand European tour to play Japan en route to Europe.
"There is nothing to confirm at this stage and discussions are continuing.
"If we reach agreement, we see this as a very positive opportunity for the younger players in the squad as the All Blacks build for the future.
"This is driven entirely by rugby reasons to meet the development needs of the team.
"This is also quite different from an extra European test. We are very mindful of the burdens on players.
"We made it clear earlier this year that we did not want to put the All Blacks under the pressure of an additional European test so nothing changes in that regard."
In Hamilton in 2011, the All Blacks won their World Cup pool game against Japan 83-7 and in South Africa during the 1995 tournament, the All Blacks triumphed 145-17.
The All Blacks played two matches in Japan in 1987 but they weren't given full test status.
- APNZ