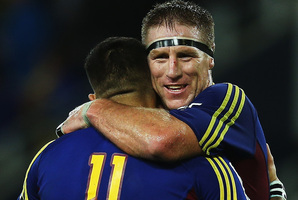 Brad Thorn has won more things than most players and now he is experiencing life at the other end of the table.
It's not a feeling the former All Blacks lock likes. As he said yesterday, he has had some tough years during his career but nothing that can compare with a season that has reaped one win and 11 losses and with another tough day at the office expected tomorrow night against the Blues in Dunedin.
The Highlanders should have closed out the game last weekend against the Force in Perth. Instead, they conceded a penalty with two minutes remaining and lost 19-18. It was probably the low of a terrible season for Jamie Joseph and his team.
"There's been some tough ones this season," Thorn said. "We've had some close ones. Generally we've been in the fight but that one was pretty disappointing in the weekend."
Now the Highlanders are preparing for a team desperate to stay in the play-offs hunt.
"They've done a great job up there with a young group of guys," Thorn said of the Blues. "Their coaches have done a great job there."
Thorn, 38, and remarkably still going strong in the second row despite his advancing years and a Highlanders' game plan which sees him running with the ball more than he is used to, said he was happy with his form.
"I'm training as hard as ever. Off the field I put in as much as I [ever] have. I've been pleased with my game. I'm hoping that if I keep it going it can help get a win for the team."
A World Cup, Heineken Cup, a Super rugby title with the Crusaders and NRL titles with the Brisbane Broncos, a horror run of losses, Thorn has experienced it all.
Now he just wants to help his team win again this season.
"We just want to win, that's the feeling from me."
- APNZ