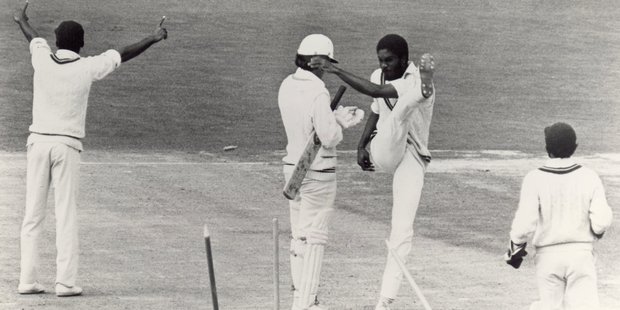 Q. Greetings Michael. Righto, easy one to start. You're originally from Jamaica, do you prefer listening to the Beatles, the Rolling Stones or Bob Marley and the Wailers?
Bob Marley, mon. How could I say anything else? My favourite song at school was Buffalo Soldier because of the story it told. He just made excellent music. So many others like War and No Woman, No Cry are world renowned too.
Q. What are you up to when you're not commentating cricket for Britain's Sky Sports?
I'm based in Florida with my wife and two of my three kids, about half an hour north of Miami. One of my daughters is married and lives in Australia. I'm about an hour and a half's flight to Jamaica where I still have two sisters and a brother. I live in England from May to September for their international cricket summer. You'd better leave "summer" in quotation marks...
Q. Ian Fleming wrote his James Bond novels from his Goldeneye estate in Jamaica. Who's your favourite Bond?
Sean Connery, but maybe that's because I'm an old fogey.
Q. Certainly not, Michael. You're only 59. Now, continuing the Bond lifestyle theme, if you had a first-class ticket to go anywhere, where would it be?
If I'm going on my own I'd choose a trip to see the racing of the Hong Kong Cup which I experienced in 2005. If I'm with my wife, well, we're off to Vietnam.
Q. Speaking of thoroughbreds, you're bidding at an auction to watch your favourite cricketer of all time. Who is it?
Viv Richards. He could destroy attacks. He could be unorthodox or play straight depending on his mood.
Q. Sorry to get all intellectual on you but what book's on your bedside table?
One Step Behind Mandela written by Rory Steyn. He was Mandela's head security man. Before that I read The Bridge: The Life And Rise Of Barack Obama.
Q. What about a favourite flick?
I'd go for something old because now I work in television I find it difficult to watch any production without looking for flaws. It's a dreadful way to be. When I was a kid Ben-Hur was my favourite and in later years The Shawshank Redemption.
Q. Right, now you're going to sit down for a spot of dinner. Where are you off to?
Anywhere? Well, I'd go for Green Cottage in the suburb of Swiss Cottage near Lord's. It is a fantastic Chinese restaurant. I can order anything but my favourite is the lobster with ginger.
Q. Would you tweet about it? Do you believe in that stuff?
I don't tweet or use Facebook. I can understand if you're following news but why follow a human being? Get your own life.
Q. Cunningly, I've saved the trickiest question for last. One of cricket's most iconic images is you kicking down the stumps while John Parker adjusts his gloves after being given not out for a caught behind in Dunedin. What are your thoughts on that day? I've always been fascinated.
That was our day of fury. We got so many out that weren't given. I mean [Bruce] Edgar must've had five innings in one. It was ridiculous, but it's history. Wrighty [former Derbyshire teammate John Wright] and I have been friends for donkey's years, in fact I spoke to him yesterday to congratulate him on winning the IPL. Because we both love horses we went to a stud farm on one of the rest days during the series. He brought up the subject of umpiring and I said "Wrighty, let's stick to the horses." He insisted. So I said: "Tell me something. Why, when you gloved a ball down the legside off me, didn't you walk?" He said: "Mikey, you are such a good bowler, you shouldn't need to get your wickets down the legside." I said: "Okay" [raises hands] and we got back to looking at stallions.