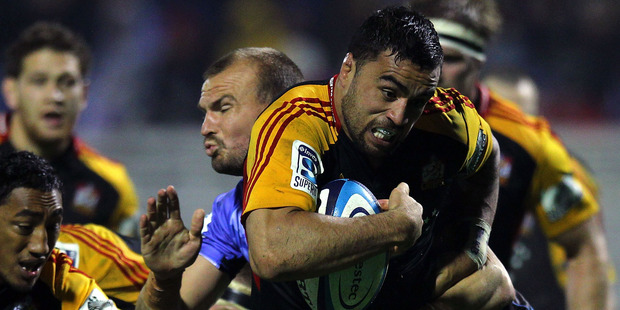 Every Thursday, Herald on Sunday rugby editor Gregor Paul ranks the Super 15 teams.
This week the Chiefs bump their way up to top spot while the Cheetahs push their way into the top five.
POWER RANKINGS
1: Chiefs
Last Week 2
Up 1
10-3
When Alex Ferguson arrived at Manchester United in 1986 he famously said he was looking forward to knocking Liverpool off their perch. And when United did, Ferguson took great pleasure in telling the world. Dave Rennie has turned the Chiefs into the pre-eminent franchise in New Zealand and in the process has knocked the Crusaders off their perch. He hasn't gone all Fergie and gloated but perhaps he should, maybe that way his side will gain the acknowledgement he hinted last week they would like.
2: Bulls
Last Week 1
Down 1
9-3
Gutsy, organised, tough and absolutely certain about how they want to play, the Bulls don't have an obvious weakness. But it's time to make a big call and say they just aren't as well-equipped to win the title as the Chiefs.
From where will the little touch of magic come that is always required to win the tight games at this time of year? Their thought processes are: kick it, maul it, tackle it, run headlong into it...run around it? Nah.
3: Crusaders
Last Week 3
No Movement
7-5
Take the numbers off Dan Carter, James Marshall, Tom Taylor and Ryan Crotty and would you be able to tell them apart? No question - they are all good (great in the case of Carter) players in their own right but too similar in body type. That right there is the nub of the Crusaders current problem - their attacking game isn't up to much and they need greater diversity in their athletes. If they could get their hands on Alapati Leiua, Frank Halai and Ben Smith - then they'd probably be just ahead instead of just behind the Chiefs.
4: Reds
Last Week 4
No Movement
8-2-4
Reds captain James Horwill set new standards in stating the bleeding obvious. In the wake of their loss to the Stormers, which left them clinging to fifth place but having played an extra game, Horwill looked ahead to Saturday's clash against the Rebels and had this to say: "
That's a must win game for us. If we want to stay alive in this competition we have to start winning. We've only got two games left, plus a bye, so we need to get as many points as we can." It's insight like that, which makes him the natural choice to be Wallaby captain.
5: Cheetahs
Last Week 7
Up 2
9-4
The Cheetahs must surely have worked out that their season hinges on the result of their clash against the Blues in the penultimate round. Win that and they will almost certainly make the top six. Their position is deceptive as they still have four points to collect from a bye, which means they are actually only one point behind the Bulls. Would be fascinating if they could push on and win the South African Conference - imagine that, a side prevailing in the Republic with expansive, ball-in-hand rugby?
6: Blues
Last Week 5
Down 1
6-6
Did John Kirwan lapse into Italian during his entirely appropriate half-time rant last week? Given his obvious anger and emotion, it might have worked nicely had he switched languages. "Mama mia," would have been a good opener. And he could have closed with "nuotare con i pesci" - which translated means "swimming with the fishes" - as in, 'you lot better pull finger or you will be...' Presumably the Blues, having been delivered such a brutally honest appraisal, will indeed pull finger in Dunedin.
7: Brumbies
Last week 8
Up 1
8-2-3
Visit Auckland and receive a complimentary victory at Eden Park. The Brumbies signed up for that. They did a great job convincing themselves they had played well, earned their four points, when really, they simply turned up, stood around for 80 minutes almost unable to believe just how bad the Blues were. The Brumbies aren't a contender - no matter what their position on the table says.
8: Waratahs
Last Week 6
Down 2
7-6
Christchurch wouldn't be a great place to have to play a season-defining game - but that's what the Waratahs are faced with having lost to the Rebels last week. It's obvious what they have to improve if they are to pull off the small miracle of beating the Crusaders: learn how to tackle. They have scored 37 tries to sit second behind the Chiefs but their 84 per cent tackle rate is the lowest in the competition.
9: Sharks
Last week 9
No Movement
6-7
This is going to be a season of 'if only' for the Sharks. If only they ran the ball a bit more in Durban. If only they weren't convinced that Pat Lambie is so good when he appears to be so limited. If only Frans Steyn could lose a bit of weight and find a better attitude. If only they hadn't lost to the Highlanders. Actually, of all the if only scenarios, that last one is the most painful.
10: Hurricanes
Last Week 10
No Movement
6-6
Wouldn't it be ironic, having spent the last few days bemoaning the intensity and suicidal nature of the season, if Conrad Smith is injured against the Brumbies on Friday? It won't, however, be a chuckle-inducing irony for All Black coach Steve Hansen. For him it would be like watching so-called comedian Dai Henwood - he just won't be able to see the funny side. Smith's return to action and that of Dane Coles does greatly strengthen the Hurricanes and maybe it will be the Reds laughing by full-time - a sneaky away victory could be on the cards
11: Rebels
Last Week 11
No Movement
4-9
The Rebels, after another awful start to the season, are now one of the more adventurous and capable sides in the competition. Their slow start presumably has much to do with the fact coach Damian Hill, spent the first half bogged in complex mathematics: "The team has definitely evolved and grown this year. We had 43 per cent changeover in the squad [in the off-season]," he said after the 24-22 defeat of the Waratahs. Wow, and in keeping in the spirit of overly detailed calculations, we note the Rebels have scored 9.4 per cent more points than they had by this time last year.
12: Stormers
Last Week 12
No Movement
5-7
In the 1980s England became rather fond of picking the self-styled hard man Micky Skinner. He named himself Mick the Munch and produced videos of his best work way before anyone else was even thinking about self-promotion. But Skinner was a blow-hard - he would famously arrive at any stramash [fight] way after the real hard men had actually sorted it out. He'd flounce around with his mullet, snorting and threatening but no one took him seriously. The Stormers are way too much like Micky Skinner.
13: Force
Last Week 13
No Movement
3-1-9
Interesting fact - the Force have now won five consecutive games against the Highlanders. Well, not that interesting - more something to casually mention in the pub to quietly try to impress as someone with a good handle on Super Rugby trivia. It does also sum up the Force, they have a curiously good record against some sides - Highlanders and Crusaders specifically - but yet are still a perennial battler.
14: Kings
Last Week 14
No Movement
3-1-9
The main aim now for the Kings is to avoid finishing last - and thanks to their resilience and the Highlanders' lack of resilience, they should be able to avoid the wooden spoon. The real battle for them between now and next year is finding a way to strengthen their squad: yes, the current crew will be older and wiser but they are missing a bit of star quality. Can they find it?
15: Highlanders
Last Week 15
No Movement
1-12
At least the Highlanders are showing creativity, imagination and quite stunning commitment when it comes to finding different ways to lose. The most peculiar thing about their season is that here they are with just one victory from their star-studded squad and not a peep about sacking the coach. Who knows whether sacking Jamie Joseph is a good idea or not - but for form's sake, more people should be suggesting it.