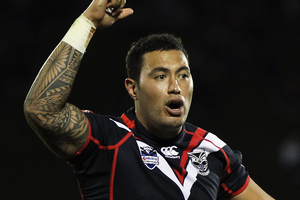 Feleti Mateo is a player known for his offloading ability, and he was a leading figure in the Warriors' 28-12 win over Newcastle last weekend, but it was an offload earlier this month which many hope will spark his season.
Two weeks ago, the 29-year-old re-signed with the Warriors for a further three years until the end of 2016. It was a decision he agonised over as he contemplated a return to Australia to be closer to family (his wife is expecting the couple's first child in September) and as a number of clubs including the Dragons chased his signature.
He admitted it feels like a weight has lifted off his shoulders and last weekend he produced his best performance for some time in his first 80-minute shift of the season.
The numbers made for impressive reading: 228m from 26 runs - it was the most metres ever made by a Warriors forward other than Steve Price - as well as six tackle breaks, five offloads and 28 tackles.
It's the sort of form many know Mateo is capable of, and has helped him gain selection for the NRL All Stars, City Origin and Australian Prime Minister's XIII, but not seen often enough over the past 12 months. If he can produce that more consistently, the Warriors have a better chance of getting out of their hole.
"I really feel Feleti has been able to drop some baggage and focus fully on his footy [after making the decision to stay with the Warriors],'' coach Matt Elliott said. ``I thought he was our best player on the weekend, and there were some pretty good performances.''
The challenge now, and it's not one restricted to just Mateo, is to back it up against the Broncos in Brisbane on Monday night. The atmosphere around the club is palpably different from the previous week, when they were trying to come to terms with their humiliating 62-6 defeat to Penrith.
"There are definitely a lot more smiles around the joint,'' said Mateo, who played his 150th NRL game against the Panthers. ``Guys are coming in, chest out, wanting to do more work knowing the hard work we did last week really paid off in the game.''
The second-rower surprised himself with his statistics but also the fact he comfortably lasted the full 80 minutes. It was forced on him after centre Carlos Tuimavave went off at halftime with a neck injury but it's something he would welcome more often.
"I think I get a lot more comfortable when I have a lot more touches,'' he said. "When I don't run the ball as much, I probably feel like I have to do more when I do have the ball in my hands. That's a balance. On the weekend I felt like I got it right. My five offloads were pretty measured. That's the biggest thing for me, it's all about balance.''
It's something Elliott needs to consider ahead of Monday's game. With Todd Lowrie still out with a rib injury, either Mateo or back-rower Elijah Taylor, who also played 80 minutes against the Knights, will probably need to play a full game against the Broncos.
Taylor also offered plenty in his last match, making 47 tackles, and he was more of a threat on attack than Lowrie and scored the try that sealed the result. Dominique Peyroux has also been added to an extended five-man bench to provide extra loose forward cover.
- APNZ