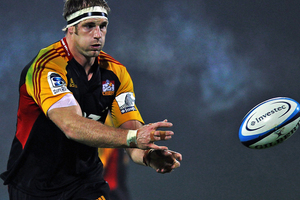 A look back on all the Fantasy studs and duds from the weekend's Super 15 action.
Chiefs 28 Crusaders 19
The star: Craig Clarke (25 points) - The veteran lock picked up his first try of the season, one of three Chiefs to cross the line, while making 10 tackles to pass the 20-point mark for this first time this season. Now priced at $5,230,000, his value has increased for six straight weeks.
The dud: Zac Guildford (-2 points) - Just 12 metres gained with a knock-on and a missed tackle. Not a great night for the All Black winger.
Value pick: Bundee Aki (22 points) - Priced a touch cheaper ($9,320,000) than Robie Fruean who finished with -1 for the Crusaders. Aki is making the most of the vacant spot left by Richard Kahui.
Rebels 24 Waratahs 22
The star: Scott Fuglistaller (29 points) - The Rebels backrower made 22 tackles, a season best, as the Rebels stunned the Waratahs. He was one of five Rebels players to pass the 20-point mark while Berrick Barnes was the best of the Waratahs with just 14 points. Despite that the Tahs only lost by two points.
The dud: Michael Hooper (5 points) - After a 40-point game last week, Hooper had a fall back to Earth with just five points against the Rebels.
Hooper made just five tackles and knocked on twice, ending a three week run of not spilling the pill.
Value pick: Tom English (23 points) - The Rebels winger scored a double for his first tries of the season. He also made five tackles to beat his previous best of four. A nice tally for the price tag of $7,440,000.
Blues 13 Brumbies 20
The star: Nicholas White (17 points) - In a low-scoring affair, in terms of Fantasy points, White was the best of an average bunch after scoring one of the two tries. White owners would have welcomed the points after scorers of 7, 0, 2 and 3 in his previous four outings.
The dud: Frank Halai (2 points) - The second straight week Halai scored two points after reaching the dizzying heights of 37 a fortnight ago.
Value pick: Brendan O'Connor (14 points) - Priced at just $3,340,000, O'Connor provided great value for any eagle-eyed owners who picked him up midweek, especially considering he scored -1 the previous week.
Force 19 Highlanders 18
The star: Jayden Hayward (26 points) - Hayward not only kicked the match winner in the dying seconds but finished as the top Fantasy scorer by quite a long way with five successful kicks and 109 metres gained.
The dud: Ma'a Nonu (-1 points) - First game in a month a Nonu failed to impress. He made three tackles and missed another three along with a knock out to finish in the negatives.
Value pick: Sias Ebersohn (16 points) At $6,210,000 he is one of the cheapest first-fives on the books and he doesn't kick goals which doesn't help. But if he keeps scoring tries then he's great value.
Kings 22 Cheetahs 34
The star: Pieter Labuschagne (31 points) - Another outstanding outing from the flanker who passed 30-points for the third time this season. 19 tackles made along with 52 metres gained and a turnover to boot. One of six Cheetahs to score more than 20.
The dud: Cornell Du Preez (2 points) - Hardly unexpected after Du Preez scored just 12 points across two games earlier in the month but owners who expected another 27-point effort like last week would have been left disappointed.
Value pick: Labuschagne - $4,190,000 still seems $3m short of where he should be priced.
Stormers 20 Reds 15
The star: Nizaam Carr (30 points) - Another close game on the field which made for totally different reading in terms of Fantasy points. Carr was one of six Stormers players to score 20+ while the best the Reds could offer was Quade Cooper with 10.
The dud: Rod Davies (1 point) - No surprise, as the tries dry up as does his points. Davies has scored five tries this season but failed to dot down for the second straight week which led to a one-point game.
Value pick: Brok Harris (27 points) - The Stormers front-rower, priced at $3,070,000, made just his third appearance of the season and easily beat his previous best of six points.
Sharks 16 Bulls 18
The star: Morne Steyn (16 points) - Steyn finished as the top scorer with six successful kicks in a low scoring affair with just one try scored.
The dud: Franco van der Merwe (-6) - It takes some effort to score such a low number. But sadly for van der Merwe it's not golf. He made just two tackles but a yellow card proved costly.
Value pick: Dewald Potgieter (11 points) - Hardly a cheap Devonport do-up but Potgieter was the best of a bad bunch at just $5,990,000.