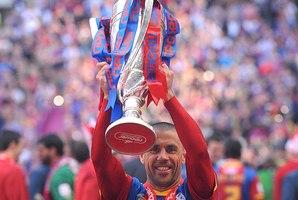 Kevin Phillips, the man who turned Crystal Palace's play-off dreams into reality, was born the year that Watford's most famous fan, Elton John, went to No 1 with Goodbye Yellow Brick Road. Phillips is 39, still nutmegging Father Time and proving as nerveless in front of goal as ever.
When his team needed him most yesterday, Phillips stepped up, converted an extra-time penalty and booked Palace a ticket to ride the Premier League gravy-train with the 1-0 win. That touch from 10m was worth a minimum £120 million ($224 million) and maximum joy to Palace fans, whose relentless and noisy support was rewarded handsomely.
This was Phillips' fourth play-off final, having also featured for Sunderland, West Brom and Blackpool. He was typically humble in victory, partly out of respect for Watford, for whom he played from 1994 to 1997.
Watford were crestfallen, devastated by the result and also by the painful reality that they were disappointing, lacking real threat until Fernando Forestieri arrived.
Too late.
And so after all the talk of Watford's loan players, it was two individuals on loan to Palace who settled it. Wilfried Zaha, demonstrating his rich potential to any Manchester United followers tuning in, earned the penalty converted by Phillips, who is still on Blackpool's books.
At the final whistle, Wembley shook to Glad All Over. Gianfranco Zola, a figure of dignity amid a yellow sea of dismay, went around, shaking the hands of the victors and consoling his vanquished players. Palace's sporting centre-half, Danny Gabbidon, walked among the Watford players, stooping down to commiserate. He spotted his teammates heading up to collect the play-off trophy and discreetly moved away then sped up the steps.
Gabbidon passed his outstanding central-defensive partner, Damien Delaney, who was sitting there on the stairs, overwhelmed by emotion. Peter Ramage talked to him as Delaney wiped away the tears of joy. The Irishman had been superb, making one particularly important block on Troy Deeney.
At the top of the stairs, Mile Jedinak was lifting the trophy, waving it in the direction of the partying Palace hordes. The few Watford supporters who had remained could have been forgiven for wondering whether Jedinak should not have been dismissed in the first half; he was cautioned for clothes-lining Almen Abdi and then catching Nathaniel Chalobah with a careless elbow.
Such details will be lost in the chronicles of this game.
Palace deserved victory. They were more ambitious, marching to the up-tempo tune of that master of motivation Ian Holloway. Manuel Almunia was by far the busier keeper. Zaha was the best player.
The team will require extensive strengthening if they are to survive in the Premier League, particularly with Zaha gone, but these are welcome problems. Palace are up - and up for the challenge.